2016 Primary Voting Schedule: Primary Voting Dates for Every State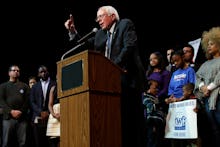 Joshua Lott/Getty Images
The 2016 presidential election is fast approaching, with the primary schedule for every state currently being decided (and subject to change), according to the New York Times. The Iowa caucuses will kick off voting on Feb. 1, while most other primary elections will be held in March.
After the momentum from the Iowa caucuses comes the New Hampshire primary on Feb. 9. These two events will help narrow down the large Republican playing field, NBC reported. 
Read more:
But the big day is March 1, aka Super Tuesday. On this day, 11 nominating contests will be held — 12 for the GOP specifically. The hosting states are South-heavy, including Alabama, Georgia, Tennessee and Virginia, according to the New York Times. By then, the winner of this cycle's three Democratic candidates vying for the spot will be apparent, NBC reported.
On March 15, big states like Ohio, Illinois and Florida come up to bat. This time around, Florida is hosting two presidential hopefuls: former Gov. Jeb Bush and Sen. Marco Rubio, the Guardian reported. 
After the last nominating contest, the Republican National Convention will be held in Cleveland on July 18, the Guardian reported. Just a week later, on July 25, will be the Democratic National Convention in Philadelphia. 
Below is a list of the primary voting dates for each state so far:
Feb. 1: Iowa caucuses
Feb. 9: New Hampshire primary
Feb. 20: Nevada Democratic caucus, South Carolina Republican primary, Washington Republican caucus
Feb. 23: Nevada Republican caucus
Feb. 27: South Carolina Democratic primary
March 1: Alabama, Alaska Republican caucus, Arkansas, Colorado, Georgia, Massachusetts, Minnesota, North Dakota Republican caucus, Oklahoma, Tennessee, Texas, Vermont, Virginia, Wyoming Republican caucus, North Dakota Democratic caucus 
March 5: Kansas, Kentucky Republican caucus, Louisiana, Maine Republican caucus, Nebraska Democratic caucus
March 6: Maine Democratic caucus
March 8: Hawaii Republican caucus, Idaho Republican primary, Michigan, Mississippi
March 15: Florida, Illinois, Missouri, North Carolina, Ohio
March 22: Arizona, Idaho Democratic caucus
March 26: Alaska Democratic caucus, Hawaii Democratic caucus, Washington Democratic caucus
April 5: Wisconsin
April 9: Wyoming Democratic caucus 
April 19: New York
April 26: Connecticut, Delaware, Maryland, Pennsylvania, Rhode Island 
May 3: Indiana
May 10: Nebraska Republican primary, West Virginia 
May 17: Kentucky Democratic primary, Oregon
May 24: Washington Republican primary
June 7: California, Montana, New Jersey, New Mexico
June 14: District of Columbia
June 26: Utah