'Charlie Hebdo' Marks One Year Since Massacre With This Latest Provocative Cover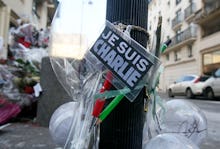 When the Paris offices of French satirical magazine Charlie Hebdo came under attack last year, resulting in the deaths of eight employees, the surviving editors showed the world they couldn't be silenced. 
Less than a week after the massacre, the publication that was targeted by an al-Qaida affiliated group for its depictions of the Prophet Muhammad released another such cover, this time with the holy figure holding a "Je Suis Charlie" sign. Above him were printed the words "tout est pardonné" — all is forgiven. 
Now, on the one-year anniversary of the Jan. 7, 2015 attacks, the weekly has a new message. The cover of its special issue depicts God running with a Kalashnikov rifle on his back and his robe stained with blood, below the words "One year on: The assassin is still out there." One million copies will hit newsstands on Wednesday, according to the Guardian.
Last year's attacks spurred conversations about free speech and censorship, but Charlie Hebdo's controversial editorial decisions have prompted debate for years prior to the incident. In 2006, two Muslim organizations sued the publication for artwork it ran featuring 12 caricatures of Muhammad, one of which showed him wearing a turban shaped like a bomb. In 2011, the Hebdo offices were firebombed after its cover depicting a giddy Muhammad threatening readers, "100 lashes if you don't die laughing." 
After the attack, people worldwide rallied behind Charlie Hebdo with the catchphrase and hashtag #JeSuisCharlie, donating thousands to the magazine that was once in danger of folding. But the outpour of support earned criticism in its own right with some wondering if, by supporting Charlie Hebdo's right to portray Muhammad, the public was endorsing Islamophobia. 
On Saturday, NPR host Scott Simon wondered whether "Charlie Hebdo [has] been trying to have it both ways because some of what they do is not funny, if it weren't for the fact that some people consider it blasphemous." But interviewee, New Yorker writer Adam Gopnik, maintained, "I think if journalists start [conceding to fanaticism] then they won't be practicing journalism. If satirists start doing that then they won't be practicing satire."