Rowan Blanchard Opens Up About Her "Memorable" 2015 and Living With Depression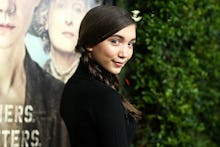 Rowan Blanchard had a huge 2015. The star of Disney Channel's Girl Meets World became a vocal proponent of intersectional feminism last year, posting thoughtful treatises on her Tumblr about everything from the inherent problems with white feminism to the issues with "#squadgoals."
Now, like many do after the new year begins, Blanchard is looking back on her 2015 in a thoughtful essay attached to an Instagram video post.
"2015 is the most memorable year of my life. It was the first year that I learned how powerful it is to be by yourself — not necessarily in a relationship sense, but to be by myself and be content," she wrote. "I feel more connected to myself as a person knowing that I will never have it all figured out — and that's for the better."
In the note, the 14-year-old actress opens up about her experiences living with depression, saying she learned not to shroud how she feels but embrace it.
"As I found myself, this year in particular, going through ups and downs with depression, I realized that instead of rejecting and ostracizing these teenage feelings (human feelings), I can learn to love the intensity of them and know that everything is momentary," she wrote.
Blanchard's openness about her depression feels very much in line with her previous statements: In the past, she's rejected Instagram commenters' pleas for her to smile in photos.
Instead, Blanchard is embracing the spectrum of her emotions, from highest to lowest.
"When I think about this year, I would usually associate it with one specific emotion/adjective (happy, sad, amazing, etc.), but I can't — there's too many," she wrote. "I learned this year that happiness and sadness are not mutually exclusive. They can exist within me at the same time in the same moment."
Blanchard's statements speak to a wisdom far beyond her years — a great quality to have as a child star, which has proven to be trying for many. That said, it's good to remember the actress is still just 14. As she ends her letter: She may have grown in many ways, but she's still got to do chores.
"Now I have to go back to cleaning my room, because my mom thinks I am doing that right now, so maybe my resolution is to clean my room when my mom tells me to," she concluded. "Happy New Year, I love you."
Read the full essay on Blanchard's Instagram.