New Jihadi John: New ISIS Video Shows Militant Figure With British Accent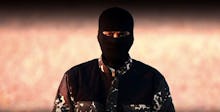 Mic/YouTube
In a new purported ISIS propaganda video, a child and a man with a British-sounding accent eerily similar to that of former ISIS propagandist "Jihadi John," threaten to kill non-Muslims in the West, including British Prime Minister David Cameron — and eventually invade and rule Britain. 
"Only an imbecile would dare to anger a people who love death the way that you love your life," the masked man says in the video, which hasn't been independently verified, CNN reported. 
"Know that today, your citizenship is under our feet," the man adds, pointing his gun at the camera. "And that our country, the Islamic State, is here to stay, and we will continue to wage jihad, break borders and one day, invade your land, where we will rule by the Sharia."
The video ends with the execution of five captives in orange jumpsuits who admitted to being spies for Britain, according to CNN.
Cameron's office and Britain's Foreign Office are investigating the video, NBC News reported, but Cameron brushed it off. "The fact that we are a successful, tolerant, democratic, multi-faith, multi-ethnic nation — they hate that," he said in response to the video, according to NBC News. "But I know that Britain will never be cowed by this sort of terrorism...they will be defeated."
The man in the video's accent is similar to that of the former ISIS propagandist known as Jihadi John, real name Mohammed Emwazi, who is believed to have been killed in a November U.S. drone strike on ISIS' headquarters in Raqqa, Syria, that specifically targeted Emwazi.