'Dance Moms' Season 6: Full Preview, Start Time and What to Know About This Season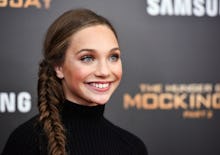 Grant Lamos IV/Getty Images
The sixth season of Lifetime's Dance Moms debuts on Tuesday at 9 p.m. Eastern, and the highly anticipated season boasts no shortage of drama, judging by a teaser from the show's producers. 
"The world thinks that I struck gold with this group," says the show's choreographer, Abby Lee Miller, in the teaser. "I disagree. Do you have any more passion or any more desire? There's a lot further for you to go."
What's new this season: There are a couple of changes to the latest series of Dance Moms since the girls last competed during season five, according to International Business Times; among them, the addition of 12-year-old Brynn Rumfallo to the dance troop. Rumfallo made several guest appearance last season which, at the time, ruffled some feathers. With that addition comes more revolving doors, IB Times reports, as one of the show's star performers, Maddie Ziegler, will not appear in many of the season six episodes.
Heightened drama behind the scenes: Miller's weathered a bit of legal trouble while heading into season six of the much-loved reality TV show. In October, Miller faced indictment for multiple bankruptcy fraud charges, with 20 counts against her for charges of falsely declaring bankruptcy. 
In a statement from the U.S. Attorney's Office of the Western District of Pennsylvania, where Miller ran her dance company, special agent Scott S. Smith from the FBI's Pittsburgh division explained the charges, "Federal bankruptcy proceedings can be a lifesaver for honest individuals overwhelmed by debt resulting from any number of legitimate reasons, but allegations of fraud and abuse threaten the integrity of the bankruptcy process and the public's trust in it. We take our responsibility to pursue allegations of bankruptcy fraud seriously."
In more Dance Moms drama, Miller, Ziegler and others were attacked by hackers on Dec. 28, TMZ reported. In the data break, the reality show stars' mobile devices, iCloud, PayPal and email accounts were hacked and some of their personal data was leaked via social media. 
According to TMZ, both the FBI and law enforcement officials are investigating the case. 
Full preview: Check out the season six teaser of Dance Moms from Lifetime, and head to Lifetime for a second preview/promotional video of season six.