iPhone 7 Rumors: New iPhone Expected to Get a Massive Storage Upgrade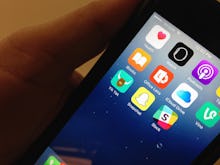 Ronald Lizik/AP
There's good news for those who tend to hit their iPhone's camera roll maximum. The new iPhone 7 Plus, which will most likely come out this fall, is rumored by an anonymously sourced report covered by the Chinese website MyDrivers to have some serious internal upgrades, according to Tech Insider. 
Read more:
The new generation will allegedly have up to 256GB of internal storage, which is double the amount of current iPhone's, aka twice the Instagram pictures, Tech Insider reported. The supposed and more powerful 3,100mAh battery is also 12.7% larger than the iPhone 6 Plus' 2195 mAh for all-night Snapchatting. 
For reference, one four-minute song is about 4MB, according to the Huffington Post. In layman's terms, that's about 250 songs or 435 photos per 1GB. The iPhone 6 series currently offers storage in 16GB, 64GB and 128GB. It's unknown if Apple will only offer three sizes from 32GB and up, Mac Rumors reported.
The gigantic internal storage will only be available for the iPhone 7 Plus, not the iPhone 7, Apple Insider reported. MyDrivers also claims that the new iPhone will be available in the 4.7 and 5.5 inch sizes.
But no one should hold their breath on these reports just yet. A few years ago, MyDrivers tried to predict the iPad mini using similar anonymous insider reports, and missed a few targets, Apple Insider reported. Last year, Apple actually reduced the battery size from the iPhone 6 Plus to the 6s Plus to make the phone thinner and lighter. 
Other claims surrounding the mysterious and much-awaited iPhone 7 generation include an eliminated headphone jack, a waterproof build and top-notch shatter resistant display.
Only time will tell.