Emma Watson's Response to Black Actress Noma Dumezweni Playing Hermione Is Wonderful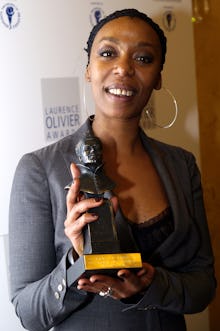 MAX NASH/AP
A late December announcement that award-winning South African actress Noma Dumezweni will play Hermione in the upcoming play Harry Potter and the Cursed Child stirred controversy among fans who argued that Hermione is supposed to be white, and casting a black actress to play Hermione is inconsistent with J.K. Rowling's cult classic book series — but Emma Watson, who played Hermione in all seven Harry Potter films, can't wait to watch Dumezweni reprise her role.
"Can't wait to see Noma Dumezweni as Hermione on stage this year," Watson tweeted Saturday, following up with several heart emojis. The play picks up 19 years after Harry Potter and the Deathly Hallows, J.K. Rowling's last installment of the series, left off. 
In defense of the controversial casting choice, Rowling pointed out on Twitter Dec. 21 that "white skin" was never specified for Hermione. Some fans applauded the diversity, while others argued that the character was depicted as white on every book cover and "why cast someone who completely differs to the description depicted in books."
Dumezweni won an Olivier Award, the British equivalent to Broadway's Tony Award, for her role in the 2006 production of Raisin in the Sun. She recently replaced actress Kim Cattrall as the lead role in Linda, a play about a married businesswoman with two daughters. In a recent interview with the Guardian, Dumezweni praised the play for virtually omitting race and the director for not considering race when casting her. 
"Michael didn't go: 'You're a black woman,'" she told the Guardian. "He just went: 'I want you to do it because I know you can. I saw what you did at the reading.' These sort of parts don't come to me that often. I'm a great theatre actor and a great supporting actor – this is the year of finally acknowledging that – but here I am playing a role that was originally going to be a white woman, and that's what the set-up around the casting is. I'm very, very proud of it. Kudos everybody."