Here's How Hillary Clinton Has Deflected Questions About Bill Clinton's Sex Scandals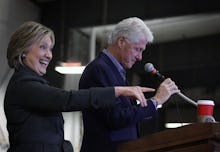 Alex Wong/Getty Images
Presidential hopeful and democratic frontrunner Hillary Clinton is no stranger to controversy and, as a former first lady and former secretary of state, the public has scrutinized her private life numerous times. Perhaps the largest controversy in recent months was the email account debacle, though for the most part it appears Clinton's challengers and the public are ready to move on, as evidenced by Vermont Sen. Bernie Sander's remarks at the democratic primary debate in October. 
Murmurings about her husband, former President Bill Clinton, and his sexual indiscretions throughout the years are making a resurgence in the news. The candidate has been made to respond, and Clinton has arguably fielded challengers on the subject with poise.
Read more:
Most recently, while on the campaign trail at a rally in Derry, New Hampshire, Clinton shut down a heckler who breached the matter, CNN reported. During a Q&A session, GOP state Rep. Katherine Prudhomme-O'Brien tried to cut in not once but twice, according to CNN, in an attempt to ask about Bill Clinton's alleged sexual indiscretions. 
"You are very rude, and I'm not ever going to call on you," Clinton told O'Brien, adding, firmly, "Thank you."
This topic hasn't exactly been glossed over by the media in recent years. During an interview in June 2014 for People, Clinton was asked about a time she reportedly referred to Monica Lewinsky as a "narcissistic loony toon," and the presidential hopeful deferred. "I'm not going to comment on what did or didn't happen," Clinton told People. "I think everybody needs to look to the future."
Clinton has been dealing with the topic since her days in the White House, and it's largely been something the candidate has separated herself from. While some have argued that her husband's behavior should not affect her chances of winning office, others speculate that Bill Clinton's past matters for his wife's political future. 
On this topic, Sanders has again supported his opponent, and told CNN, "We have got more important things to worry about in this country than Bill Clinton's sex life." Yet, surprisingly or not, Republican frontrunner and real estate mogul Donald Trump does not agree. 
In a recent interview with Today, Trump reportedly attacked Bill Clinton directly by saying, "There was certainly a lot of abuse of women. You look at whether it's Monica Lewinsky or Paula Jones or many of them." Trump added that Bill Clinton's past transgressions would be "fair game" if they "play the woman's card with respect to me."
"That certainly will be fair game. Certainly if they play the woman's card with respect to me, that will be fair game."
And on Monday, Bill Clinton addressed Trump's comments directly. "The Republicans have to decide who they want to nominate," Clinton said, according to ABC News. "I'm trying to tell the Democrats and the country why I think Hillary would be the best president. I think there's always attempts to take the election away from the people."