Watch This Teenage Girl Play Catch With Her New 3-D Printed Hand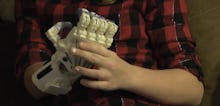 Mount Vernon, Ohio, resident Destiney Akers was born without fingers on her right hand, but thanks to 3-D printing, the 13-year-old is now equipped with a working hand.
Her new device comes courtesy of the Helping Hand Project, a nonprofit dedicated to providing those in need with 3-D printed hands, which are often cheaper than their traditional prosthetic counterparts. Launched by Jeff Powell, a University of North Carolina-Chapel Hill biomedical engineering student, the group managed to deliver Akers' new hand just in time for Christmas. 
"I thought, 'Man, I'm finally going to be normal,'" Akers told the Columbus Dispatch when she discovered Powell's work. 
Prior to life with her new prosthetic, Akers had gotten by without  fingers on her right hand, learning to tie her shoes, apply nail polish and mow the lawn. She even nicknamed her hand "nubby" and occasionally "stubby," according to the Dispatch. Akers' mother, Julie Welch, explained her daughter's disability in simple terms, telling her daughter that God wanted her to be special.
"To be honest with you only, it was the only thing I could come up with at the time," Welch told the outlet.
As she approached middle school, however, Akers began to worry that her uniqueness would make her a target for other kids; they were "mean," she told the Dispatch, "really mean." In stepped Debbie Forsythe, who works with the Faith Baptist Church in Mount Vernon. After getting to know Akers, Forsythe reached out to Powell to see whether he would help Akers.
The process for creating the hand itself was lengthy — Powell's team has to balance schoolwork and other outside commitments along with their work with the nonprofit. According to the Dispatch, creating and customizing each hands takes around seven hours.
The group's first creation was produced in 2014 for a then-7-year-old boy named Holden Mora, who was born without fingers on his left hand. After a professor asked Powell whether he could help Mora, the college student created a prototype: a bright red hand whose fingers could be controlled with a quick wrist flick.
"It's about enabling him to do anything that he wants to do," Powell told CBS News. 
So far, Powell's nonprofit has raised just over $11,000. Given the basic cost of making each hand — the Dispatch notes that it's between $20 and $40 — the group seems primed to keep making its plastic hands for some time. Other groups, like e-NABLE, are performing similar feats for people like Akers and Mora.
For Akers, life with her new hand is just beginning. "This is the pride and joy," she said.