Dolce and Gabbana's New Ads Feature "Chinese Tourists" in Italy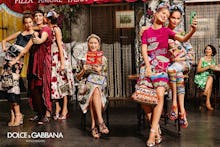 In recent seasons, Dolce & Gabbana's advertising campaigns have been crowded montages with multiple models of varying ages, who all appear to be Italian, or at least evoke that stereotypical look while paying tribute to the design duo's native, beloved Italy.
Their latest campaign advertisement features the same setup, with the exception of some "Chinese tourists." 
Take a look:
According to the company's Facebook page, the Summer 2016 campaign is meant to showcase "locals and tourists come together," where "those who know the Italian life and those who want to embrace it feast together, chat, have fun and take selfies as tokens of their vacation and the new people they meet."
The full campaign, highlighted by Fashionista, features models who appear to be of Asian descent holding up maps of Italy, seemingly asking for directions or posing for selfies, including one with with a street performer dressed as a gladiator. Another Asian model is seen carrying a shopping bag with a camera around his neck.
Other non-Asian models are also seen posing for selfies — the "locals," presumably.
As for reactions to the ads, social media fans have mostly been positive — in fact, some commenters on Instagram noted how nice and diverse the ads were for a change. (The inclusion of a curvier model also didn't go unnoticed by users.)
Dolce and Gabbana previously showed Chinese tourists in its Spring 2016 runway collection, to the dismay of some reviewers who faulted the label for playing into outdated Chinese stereotypes.
The mere stereotype of Chinese tourists making their way around Italy is itself based in reality: Italy has recently become a top destination for Chinese tourists in Europe, overshadowing France and Great Britain as tourism hotspots. Dolce and Gabbana might be trying to pay homage to that real aspect of the current Italian landscape; the brand also references common Italian tourist tropes with the street performer dressed as a gladiator.
But as writer Chantal Fernandez questioned on Fashionista, "Does depicting [Asian models] as outsiders help, or does it create more distance if these foreign shoppers are attracted more to the brand's take on Italian culture than the brand's take on theirs?"
Only a seemingly small portion of followers voiced concern about the role of Asian models in the campaign. In one photo, an Asian model eats spaghetti with her hand while two other models eat their meal carefully with utensils, a commenter noted. But considering Italy's runways are already the least diverse in the fashion industry, it doesn't go unnoticed when Italian labels like Dolce & Gabbana do make concerted efforts to incorporate diversity.
Mic has reached out to Dolce & Gabbana and we will update.
h/t Fashionista