'The Breaks': Plot, Cast, Preview, Trailer and Where to Watch VH1's Hip-Hop Movie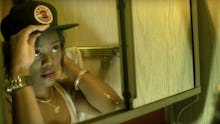 Mic/YouTube
Travel back to the age of emerging hip-hop culture in New York City in 1990 with VH1's new television movie The Breaks, which airs on Monday at 9 p.m. EST, according to the New York Times. The movie follows three friends — Nikki Jones, played by Afton Williamson; David Aaron, played by David Call; and DeeVee played by Mack Wilds — as they struggle in the nascent hip-hop industry. 
Directed by Seith Mann, who's worked on such shows as The Walking Dead and Homeland, the movie is based off of the book The Big Payback: The History of the Business of Hip-Hop, written by journalist Dan Charnas on the very blood, sweat and tears that come with making it in the business, Indiewire reported. 
"But I did know that I trusted VH1 because even though they had made their name on reality shows lately, I always respected their work around hip-hop and black music," Charnas told Forbes in an interview published Friday about handing over the plot to VH1. "They were playing black videos when MTV wasn't."
The film centers on the early 1990s at a time when hip-hop and crime were both at a height. The main characters face these hurdles on their different paths to make it big in the industry. Jones turns down Harvard Law School in favor of unfairly grinding as an intern at a record label, while Aaron is her boyfriend who fights to put more hip-hop on the radio, the Village Voice reported. DeeVee joins the two as an aspiring producer, who tries working with a talented drug dealer. 
"It's important to portray the different kinds of kids in this movie because there's more than one type of person in urban communities other than what the media consistently shows you," Wilds said to the New York Post. "These are college kids who are legitimately trying to make hip-hop what we want and what we feel it to be."
For sound authenticity, Gang Starr's DJ Premier was recruited as the movie's music producer, teaching Wilds how to scratch and spin records. "Everything is authentic," Premier said to the Village Voice. "The songs, even the [original] music that I created, reminded me of that era."
Method Man from the Wu-Tang Clan makes a cameo, as well as time-appropriate music by A Tribe Called Quest  and Public Enemy, the New York Times reported. 
The trailer for The Breaks is below: