Craig Strickland Found Dead After Country Singer Went Missing in Oklahoma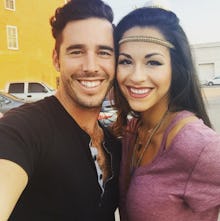 Twitter
Country music artist Craig Strickland was found dead Monday after being missing since early last week, Oklahoma Highway Patrol Lt. Kera Phillippi told CNN. Strickland, a 29-year-old member of country rock group Backroad Anthem, went missing in late December while he and a friend, Chase Morland, were on a duck-hunting trip in northern Oklahoma, CNN reported. Morland was found dead shortly after the pair went missing. 
The pair's boat reportedly capsized during the duck-hunting trip. Authorities and friends have been searching for Strickland along a lake in northern Oklahoma, CBS News reported, and his wife, Helen Strickland, had been updating her social media accounts with their progress in the search. 
On Monday, she tweeted that Craig was found dead and is "safe with his father in heaven."
Before Strickland and Morland left for their duck-hunting trip, Morland tweeted that the two were heading into a winter storm to "kill ducks in Oklahoma" — the latest tweet that appears on Strickland's profile after he retweeted it.
Jan. 4, 2016, 2:50 p.m. Eastern: This story has been updated.