Dolce & Gabbana Launches Abaya and Hijab Collection for the "Arab World"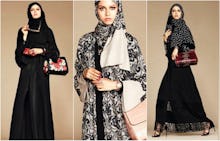 If you had any doubt that Arab shoppers were a force to be reckoned with, just look to Dolce & Gabbana's latest designs: an abaya collection, made specially with its Arab shoppers in mind.
The new collection debuted exclusively on Style.com/Arabia on Sunday, making a "global reveal" for the Italian design house's "very first abaya collection." The fashion site reports that the collection "celebrate[s] the inimitable dolce vita that is distinct to us in the Arab world."
The pieces showcase a surprisingly seamless blend between Dolce & Gabbana's sumptuous Italian signatures — a color palette of black, white and contrasting brights; oversized florals; rich lace — and modest, religious-friendly silhouettes. 
The collection includes both hijabs (the head coverings) and abayas, the flowing garments, which "come in sheer georgette and satin weave charmeuse fabrics and include copious lace details along hems," noted Style.com/Arabia, pointing out the overlapping details between this collection and the designers' main runway collection for Spring 2016.
This isn't the first mainstream clothing brand to make a concerted effort to reach Muslim customers. In 2015, Mango and DKNY rolled out modest collections timed to coincide with Ramadan, and Uniqlo collaborated with Muslim fashion blogger Hana Tajima, featuring her (and her hijab) in promotional photos for the brand.
"Globally, the Muslim population is a youthful and growing demographic," Reina Lewis, professor of cultural studies at London College of Fashion UAL, told Fortune. "This makes Muslims a very important consumer segment for anything."
There are also serious style enthusiasts among young Muslim consumers, both in the Middle East and in the west. Muslim style bloggers like Amirah Aulaqi and Saufeeya Goodson use their web presences to show off their own creative style and help other women see that modesty and trendiness can indeed go together.
Still, even as the fashion world extends deep into the Middle East, with luxury stores littering Dubai, abayas haven't exactly been flooding the runways. But for a brand like Dolce and Gabbana, which cultivates independent wealthy clients, particularly through its Alta Moda collections, these Middle Eastern buyers — many of whom may be Muslim — are important. That's why, Stefano Gabbana said this past summer, he and Domenico Dolce were planning a special collection aimed at Muslim shoppers.
"I'm really fascinated with the Middle East and we've just completed a prêt-a-porter collection of abayas and sheylas," Gabbana told the National in July. "Pieces have some lace, embroidery and some prints – but not too much. They will be available in the UAE this October."
A rep for Dolce and Gabbana told Mic that this "is a special collection designed for a specific audience and to meet the needs of... our clientele." The collection is sold throughout the Middle East as well as at select European stores, including those in Paris and London. 
All of which makes Dolce and Gabbana one of the most high-end, famed luxury brand to foray into hijabs and abayas, which until now have largely been relegated to local Fashion Weeks. Now let's see how they sell.
Jan. 5, 2016, 9:13 a.m.: This article has been updated to include comment from a Dolce and Gabbana representative.