Oscars 2016: The Movies and Actors Getting Big Buzz Ahead of Nominations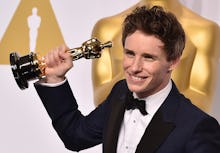 Jordan Strauss/AP
It's almost Oscar season — members of the Academy of Motion Pictures and Sciences typically cast their votes for the hundreds of film candidates each year in January. In advance of the Academy's official nominees announcement, we've compiled a shortlist of potential winners for five of the night's big categories: best picture, best actress, best Actor, best supporting actress and best supporting actor. Nothing is official yet, but as it happens every year, a few frontrunners have emerged in the Oscar race.
The 88th annual Academy Awards ceremony will be hosted by Chris Rock, and will air live on Feb. 28 from the Kodak Theater in Los Angeles at 7 p.m. Eastern on ABC. 
Best Picture
According to the Oscar website, there are 305 films currently in the running for best picture. Indiewire names Spotlight as "the only film that seems like an absolute sure thing" at this juncture, but lists Mad Max: Fury Road, The Big Short, The Martian, Room and Carol as other possible contenders. Star Wars Episode VII may sneak in, too, according to Indiewire, while The Revenant, Straight Outta Compton and Bridge of Spies could also make the cut. 
Best Actress
Two-time Oscar winner Cate Blanchett is a top contender for the best bctress award (for her roles in both Truth and Carol), the Huffington Post reported, along with Brie Larson, the breakout star of Room. Other possible winners? Jennifer Lawrence for her role in Joy, Saoirse Ronan of the Sundance hit Brooklyn, Charlotte Rampling of 45 Years, Lily Tomlin for Grandma, Carey Mulligan for her role in Suffragette, Maggie Smith of The Lady in the Van and Charlize Theron in Mad Max round out HuffPo's top ten picks for best actress this year.
Best Actor
This may finally be Leonardo DiCaprio's year. According to both Indiewire and AwardsCircuit, he's the one to bet on for the best actor statue thanks to his leading role in The Revenant. Other notable contenders, AwardsCircuit reported, are Bryan Cranston for Trumbo, Michael Fassbender for Steve Jobs, Eddie Redmayne for The Danish Girl and Johnny Depp for Black Mass. Indiewire adds Matt Damon (The Martian) and Will Smith (Concussion) to that shortlist. Bustle predicts that Michael B. Jordan may unfortunately be snubbed for his role in the Rocky reprise, Creed.
Best Supporting Actress
Indiewire's top picks for best supporting actress are, in order of likelihood, Kate Winslet for Steve Jobs, Jennifer Jason Leigh for The Hateful Eight, Rachel McAdams for Spotlight, Alicia Vikander for Ex-Machina and Joan Allen for Room. The Film Experience adds Jane Fonda (Youth) and Rooney Mara (Carol) as possible top contenders.
Best Supporting Actor
According to AwardsCircuit, Mark Rylance (Bridge of Spies), Idris Elba (Beasts of No Nation), Christian Bale (The Big Short), Jacob Tremblay (Room) and Michael Keaton (Spotlight) are the top five most likely contenders for best supporting actor in 2016. Indiewire also nods to Sylvester Stallone (Creed) and Mark Ruffalo (Spotlight) as possibilities.