Trump Ad Uses Footage of Immigrants in Morocco to Push for Wall on Mexican Border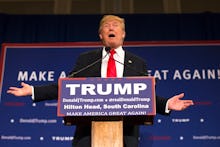 Donald Trump's campaign is brushing off the revelation that the GOP frontrunner's first television ad deceptively depicts migrants at the Moroccan border as Mexicans entering the United States, saying "that's what our country is going to look like" if Trump's proposal to build a border wall isn't carried out.
The controversy centers on Trump's brand-new "Great Again" ad. Twenty seconds into the 30-second spot, the narrator states, "He'll stop illegal immigration by building a wall on our southern border that Mexico will pay for," as images of migrants rushing over a border appear on-screen:
But the fact-checkers at PolitiFact quickly pointed out that the footage wasn't from "our southern border." Instead, it was from the border in Melilla, a Spanish enclave within Morocco. PolitiFact found the origin of the footage after locating it in an Italian television report from 2014.
Because the ad suggested the migrants were at the U.S.-Mexico border, PolitiFact rated it "pants on fire," its rating for the most outlandish claims.
Don't expect contrition from the Trump camp, though. According to NBC News' Katy Tur, campaign manager Corey Lewandowski had a decidedly profane response to the revelation, "No shit it's not the Mexican border."
The Trump campaign later issued a more formal statement, this one rated PG:
This is far from the first time PolitiFact has flayed Trump. Last month, the site named Trump's "many campaign misstatements" its "lie of the year." At the time of that dubious award, PolitiFact had rated 76% of Trump claims it evaluated "false," "mostly false" or "pants on fire."