People's Choice Awards 2016: Start Time, Channel, Host, Honorees and How to Watch Online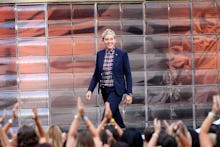 Laura Cavanaugh/Getty Images
Awards show season is officially underway: The 2016 People's Choice Awards will kick off at 9 p.m. EST on Jan. 6. Viewers can watch the star-studded ceremony live on CBS or on live stream, available through CBS All Access. The People's Choice Awards are decided for the people, by the people: Voting opened on Nov. 3 and closed Dec. 3. And according to producer Mark Burnett, the 42nd annual ceremony will be the best one yet.
"Every year, we set the bar higher on how we can deliver the biggest show that engages fans," Burnett said in a statement. "Last year, the fans cast hundreds of millions of votes to choose the winners. In my seventh year, we are looking forward to entertaining the fans and engaging them like never before."
Here's everything we know about the big night.
Host: TV and screen actress Jane Lynch is confirmed as the host of the 42nd Annual People's Choice Awards. "As a people myself, I'm thrilled to take on hosting duties of the only awards show that celebrates the choice of the people!" Lynch reportedly said in a statement. The former Glee star is taking said duties very seriously and has promised to shake up her wardrobe routine as an added treat. Something to look forward to.
Honorees: Fifteen-time People's Choice Award-winner Ellen DeGeneres will receive 2016's Favorite Humanitarian Award "because of her tireless efforts in helping communities in need and for raising awareness of organizations and charities that are making a difference in people's lives," People's Choice announced Monday. The comedian and talk show host will allocate the annual Walgreen's donation to St. Jude Children's research hospital.
Nominees: The 2016 nominees were announced on Nov. 3; a full list is available here. For best movie, the contenders are Avengers: Age of Ultron, Furious 7, Inside Out, Jurassic World and Pitch Perfect 2. Channing Tatum, Chris Pratt, Johnny Depp, Robert Downey Jr. and Will Smith are all vying for Favorite Movie Actor, while Anne Hathaway, Melissa McCarthy, Meryl Streep, Sandra Bullock and Scarlett Johansson will face off for Favorite Movie Actress. Favorite TV Show could go to The Big Bang Theory, Game of Thrones, Grey's Anatomy, The Voice or The Walking Dead. With some contenders nominated in multiple categories, it promises to be an exciting show.