John Oliver Has a Message for Everyone Struggling With Their New Year's Resolutions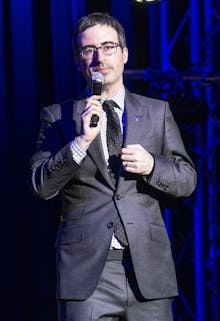 Are you a complete failure when it comes to New Year's resolutions? Well, you're not alone.
To ring in the new year, Last Week Tonight host John Oliver, on vacation until Feb. 14, nevertheless checked in with his fans via a short web-only video to help viewers manage their unrealistic 2016 goals. 
For Oliver, the primary reason most of us fail is simple.
"The main problem with New Year's resolutions is that we set our expectations way too high," he said. "For instance, lots of people say they want to exercise more. But that's hard."   
As a solution, the British comedian offered the possibility of redefining our measures of success. For example, he said, rather than going to the gym, just write off any activity that raises your heart rate. Oliver suggested deliberately waking up late for work or taking a pregnancy test.
Other ideas could include watching scary movies, or writing for a living. 
As an alternative, Oliver also suggested crafting resolutions so outrageously high, like throwing out the first pitch at New York's Yankee Stadium on July 4 or winning Oscars, Emmys, Grammys and the Kentucky Derby, as to render the entire resolutions process meaningless. 
Oliver explained, "The key to a successful resolution is not hard work and dedication, it's managing disappointment, and that's it." 
Too real, J.O. — too real. #TooReal. Check out the full clip here: