Fresno, California's First Homicide Victim of 2016 Is Another Sikh American Man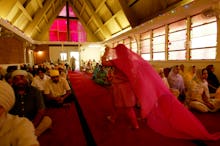 On New Year's Day, a 68-year-old liquor store employee named Gurcharan Singh Gill was found stabbed to death at an auto repair shop in central Fresno, California. It was the city's first homicide of 2016, according to reports.
The investigation is ongoing, but Gill was Sikh American, making his killing the second violent crime committed against a person of his ethnicity in Fresno in the last two weeks alone. The Fresno Bee reported Dec. 27 that another Sikh man — Amrik Singh Bal, 68 — was accosted, intentionally hit by a car and beaten by two white men in the central California city of 516,000.
The incidents marked the latest in a wave of violence directed at Sikh Americans and Muslims in the last few months, intensified by terror attacks in Paris and San Bernardino, California, and the anti-Muslim, xenophobic rhetoric that has risen in their wake. Sikh Americans — who are often mistaken for Muslims — have faced a spike in suspected hate crimes and harassment directed at them over the last 15 years, often involving accusations of terrorism.
Bal's assailants reportedly broke the his collarbone in the process of the December assault, yelling racial slurs and asking, "Why are you here?" Three months prior, on Sept. 10, a 53-year-old Sikh American cab driver named Inderjit Singh Mukker was viciously beaten and called a "terrorist" and "Bin Laden" by a teenager in Darien, Illinois, a suburb of Chicago.
Both incidents have a lengthy and troubling precedent. Since the Sept. 11, 2001, terror attacks, hate crimes against Muslims and people misidentified as Muslims in the U.S. have risen from an average of 20-30 per year to 100-150, as Mic has previously reported. 
These incidents include an August 2012 massacre in Oak Creek, Wisconsin, where a white supremacist named Wade Michael Page shot and killed six people at a Sikh temple, or gurdwara – one of the worst attacks on a house of worship in American history, after the June 2015 killing of nine parishioners at a historically black church in Charleston, South Carolina, and a 1991 attack on a Buddhist center outside Phoenix, which also claimed nine lives.
This latest homicide marks a grim start to the new year. Meanwhile, police in Fresno are still searching for Gill's killer.
h/t Angry Asian Man