Drake's 'Views From the 6' Is "Coming Very Soon" But Some Fans Are Tired of Waiting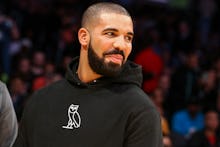 John Salangsang/AP
During a New Year's Eve performance in Miami, Drake threw fans a meager bone when he promised on stage that his new album Views From the 6 is "coming very soon," Hot New Hip Hop reports. Yet the Canadian rapper's pledge may have fallen on deaf ears, judging by the reaction on Twitter, seeing as though fans have heard before that the album is just on the horizon — and more than once. One Instagram user captured the moment and shared it on the platform.
In comments on several photos that Drake shared to Instagram following the New Year's Eve celebrations, some Drizzy fans were starting to get impatient. "Where is Views," commented one Instagram user. "Views From the 6 need to drop within the next 3 months," wrote another, "I know its go have all the Fire????????."
Yet, of the New Year's Eve photos Drake shared via his Instagram account, the musician captioned more than one shot "16," which some fans took as a hint to a possible release date. 
Though some fans have been impatiently awaiting the release of his upcoming LP, an equal number are seemingly willing to forgive Drake the agony of anticipation according to comments on social media and posts on Twitter — because compromise and forgiveness is what real love's about.