New York State May Forgive and Forget Some of Its Residents' Student Loan Debt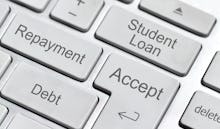 It sounds too good to be true. 
As part of New York Gov. Andrew Cuomo's 2015 Opportunity Agenda, he proposed an initiative called the "Get on Your Feet Loan Forgiveness Program," which would pay up to two years of debt for graduates residing in the state. He introduced the program last January, but grads couldn't send their applications until Dec. 31. And not a moment too soon: According to the government's website, New York State college students racked up $25,000 in loans, on average.
To qualify for the program, students must have attended college in New York and graduated after December 2014. They must continue to reside in New York after graduation; participate in the Pay as You Earn, or PAYE program, a federal student-loan-relief program President Obama signed in 2012; and earn less than $50,000 annually. 
As Democrat presidential candidate Bernie Sanders works on making four-year public universities and colleges tuition-free in the U.S., and frontrunner Hillary Clinton pledges to relieve and reduce debt for current borrowers, Cuomo distinguishes New York as the first state to introduce legislation of this kind, according to CNN.
"Student loans are one of the greatest challenges that today's recent college graduates face when starting their careers — and we must do more to give them a full opportunity to succeed," Cuomo said.