President Obama Announces Major Plans Regarding Background Checks for Gun Buyers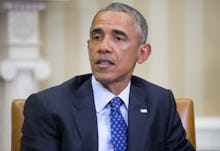 Pablo Martinez Monsivais/AP
In a major move towards gun control reform, President Barack Obama announced on Monday that he is taking executive action in order to close the "gun control loophole" and make background checks a mandatory part of all gun purchases, the Associated Press reported. Currently, unlicensed dealers and individuals are able to sells guns at gun shows without conducting background checks or even asking for identification, according to a report by the University of California at Davis Violence Prevention Research Program.
"Forty percent of gun sales in the US do not involve a background check," gun-control expert, and author of the UC Davis study, Garen Wintemute told the Nation in 2012.
The White House announced that "the FBI will hire 230 more examiners to process background checks," according to the AP. 
The new requirements for gun purchases aim to specifically target those who are buying and selling firearms in a way that avoids current federal regulations. As part of the new executive actions, the Obama administration is also putting emphasis on background checks for people buying weapons like machine guns and "sawed-off" shotguns, reported Time.
The news of Obama's actions regarding more frequent and more extensive background checks likely comes as a welcome change for gun-control advocates, who have long been pushing for reforms to the systems. Republicans who have been, as a rule, strongly opposed to gun control reform, are already speaking out against the president's new executive actions. 
House Speaker Paul Ryan criticized the move on Monday, saying in a statement, "No president should be able to reverse legislative failure by executive fiat, not even incrementally," reports CBS News.
The president was confident that the coming executive orders do not represent an overreach of his authority. "These are not only recommendations that are well within my legal authority and the executive branch," Obama said on Monday, "But they are also ones that the overwhelming majority of the American people, including gun owners, support and believe in."