7 Artists Due for an Adele-Like Comeback in 2016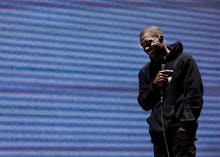 In 2013, the music world added a new word to its vocabulary: a Beyoncé. It became a noun used to refer not just to the artist herself, but to surprise releases, modeled after the stunning success of Queen Bey's self-titled album.
After 2015, we may have to add another new word: an Adele.
Just like Beyoncé was not the first surprise album, Adele is far from the first artist to drop out of the public eye and return to massive celebration. However, she executed her return so expertly, it deserves to be remembered by every artist who will attempt to repeat it. After three years of silence from the soulful British singer, the response to 25 made it feel as though Adele had been gone three lifetimes. It shattered sales records across the world, and has continued to do so into the new year.
The tireless dedication to quality she took while away seems to be what made the difference. She told Rolling Stone she scrapped nearly an entire album after showing it to legendary producer Rick Rubin and hearing him say of the tracks: "I don't believe you." 
"Some songs are not fucking good enough," she said. "And I think that's where a lot of people go wrong, thinking that people will buy any old shit from you." 
These words define the Adele drop, and they should stand as a challenge to all major artists looking to release their next albums. Some very talented artists have been out of the public eye for some time and seem to have been working to try to achieve similar creative breakthroughs. If they can manage, these seven might be poised to have profound impacts on their respective genres in the years to come.
Pop:
Gwen Stefani
The pixie-esque No Doubt frontwoman hasn't been out of the public eye in the past few years. Fans could catch her on The Voice Monday and Tuesday nights throughout the fall. Yet in terms of a new album, it's been close to three years, when she recorded No Doubt's Push and Shove. She's been releasing singles here and there, such as "Baby Don't Lie" and "Spark the Fire" in 2014. Both sounded like cheap rehashes of her 2004 Love.Angel.Music.Baby style. Stefani recently scrapped that in favor of a much a more personal and ultimately more powerful direction. "Used to Love You" heralded that change.
"I needed to go through what I needed to go through to write the record that I needed to write," Stefani told Entertainment Weekly of the new record that's coming together. "There was a lot of prayer and meditating in the sense of trying to be open and grateful with this record. These songs are really natural — they're from not worrying about what happened or what's going to happen but about living in the moment, from trying to be present and trying to feel."
Pink
After watching the colorful travesty that was the 2015 VMAs, Pink took to Instagram to share her thoughts. "I felt sad because music is supposed to inspire. It saved my life," the pop punk star wrote in a since-deleted post. "This trash won't save any kid's life. In a world that is even scarier and with lives still worth saving, who will stand up and have soul?" Her question has yet to be answered, but no one seems more capable of doing so than Pink herself.
Pink's most recent record was a quiet, breathy folk album titled Rose Ave., recorded under her birth name Alecia Moore with longtime collaborator Dallas Green. She describes recording and writing it as a liberating experience. "The fact that there were no expectations — I think that's what made it so freeing," Moore told the Associated Press. "I just felt like I was doing it because I loved it." Perhaps some of this gratifying, personal experience will carry over into her next album — which will be a Pink record, according to a 2015 MTV interview.
Fiona Apple
Being a Fiona Apple fan is not an easy endeavor. One has to feel comfortable waiting three to seven-year stretches between albums and suffer through claims she'll never record again after each. Yet as experience has proved, every time she does, her albums are magnificent and fresh.
She wrote the rules for how to maintain a stoic Adele-like determination to only release quality music, and for the most part, her label is down to support her. "Other people might be angry that their record company didn't give a shit about whether they had a record out, but I am very happy Epic didn't because that would have just made me go away and not want to do any of it," she told Pitchfork, explaining her recording situation following her most recent album, 2012's The Idler Wheel... "If people were like, 'You gotta come out with something,' it'd be like telling me to take a shit. Even if you tell me to, I can't."
R&B:
Frank Ocean
Frank Ocean compromised some of his mystery and many of his fans' good graces last year when he teased his upcoming album would be dropping July 2015 — and then gave the world nothing. Even Adele is pissed. "I'm just fucking waiting for Frank fucking Ocean to come out with his album," she told Rolling Stone. "It's taking so fucking long. That sounds so stupid, coming from me, doesn't it?"
Ocean has been reportedly gathering an all-star team. In a 2013 interview he shared he had connected with Pharrell Williams, producer Danger Mouse, British singer King Krule, and Tame Impala's Kevin Parker. Also in 2013, Dave Gahan of '80s electropop band Depeche Mode let slip in an interview with Entertainment Weekly that he had collaborated with Ocean for a song. For all we know all these songs could have been scrapped long ago. Only time will tell.
Sade
Few things will ever be as smooth and soulful as Sade. Her famed records are timeless and incredibly personal — so much so that it's sometimes difficult for the eponymous singer to work up the ambition to record. "I consciously keep my distance from the world," she told the Daily Telegraph in 2011. "Once you've given it all, you can't take it back. I give a lot in the songs. That's an insight into me."
She records on her own time at her own pace, and the rumors she's back in the studio fade in and out. If she were to drop something, there's a likelihood it might eclipse Adele. In 2012, the year when Adele cleaned up at the Grammys, Sade was still highest-earning artist in the UK, sitting several spots above Adele. The world could always use more lover's rock.
Lauryn Hill
It has been 13 years since Lauryn Hill blessed the world with her transcendent The Miseducation of Lauryn Hill, her one and only studio masterpiece. The airwaves have been nearly silent since, though a brief prison spell in 2013 for a tax evasion conviction answered some questions about where she had been. As sad as it was to see, it got her communing with her fans about music again.
"I've remained silent, after an extensive healing process," she said in a 2013 Tumblr post. "This has been a 10+ year battle, for a long time played out behind closed doors, but now in front of the public eye. It took years for me to get out of the 'parasitic' dynamic of my youth, and into a deal that better reflects my true contribution as an artist, and (purportedly) gives me the control necessary to create a paradigm suitable for my needs."
She seems to have that now. Ms. Hill contributed six tracks to the soundtrack for a recent tribute documentary to Nina Simone, which saw her return to her soulful roots. Fans who have been tuned in since 1998, and to the Fugees before, may not have much longer to wait.
Rap:
Missy Elliott
Missy Elliott barely had to lift a finger to send the internet into hysterics in 2015. She released one funky video for a new single, "WTF (Where They From)," and Twitter immediately began thirsting for new music. However, Elliott is determined to take her time. "Missy is careful about not releasing stuff unless she feels it in her gut," Sharaya J, one of Missy Eliott's closest musical collaborators, told Billboard. "She wasn't going to make a move until she knew she had a record that was going to change the world."
According to all accounts, the album is going to be epic. "It's something you ain't never heard Missy do," Timbaland, Missy Elliott's long-time songwriting and production partner told Rolling Stone in 2014. "It sounds today, but the future." 
It may be coming very soon. "I want to say 2016, but I don't want to give a time," Elliott told Billboard. "Nowadays you say a time, they'll stone you." 
Danny Brown
Hip-hop's foremost degenerate intellectual Danny Brown is working on a classic. Known for his uncanny ability to switch between graphic sexual innuendo and cultural critique within single breaths, the Detroit rapper has no apparent aspirations for the pop charts. He still feels he should be discussed with greatest rappers of all time, and has been taking his time with his most recent project to make sure it knocks exactly like he wants it to.
"I always looked at, like, when the Beatles made Sgt. Pepper's, or when Beach Boys made Pet Sounds, and I always feel like, besides maybe a De La Soul album or Madvillain, [hip-hop] hasn't ventured too far into that world," Brown said during a 2015 Red Bull Music Academy lecture. "And I've always been chasing that world in that sense. But now is my first time where I'm gonna just dive fully headfirst into it."