LGBT Activist Asks Ben Carson, "Do You Think I Chose to Be Gay?"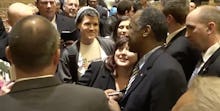 Republican presidential candidate Ben Carson found himself in a precarious situation during a town hall Monday night in New York City when an LGBT activist approached him and asked one of the diciest questions in GOP politics: "Do you think I chose to be gay?"
Carson repeated the question to make sure he'd heard it before saying it was "a long conversation."
"I think you're full of shit," the questioner said before walking away. Carson responded with a typically sedate "OK," through a tight smile, while a nearby supporter hounded him for a picture. 
Carson may have spotted trouble early had he noticed his challenger's shirt, which bore the logo of a local LGBT rights community center. 
The event took place in the ballroom of Staten Island's Hilton Garden Hotel Inn where Carson addressed around 200 supporters and touched on a number of familiar themes about his upbringing and religious faith. It was a campaign stop that stuck some by surprise as his poll numbers have collapsed in key early voting states like Iowa and New Hampshire. New York — a historical nonplayer in either party's nominating process — won't have its primary until April 19. 
The incident is the latest in a series of controversial statements and incidents from Carson over the issue of LGBT rights. During an interview in March with CNN's Chris Cuomo, Carson offered a blunter assessment saying that homosexuality was "absolutely" a choice and citing prisons as an example.
"A lot of people who go into prison go into prison straight — and when they come out, they're gay," Carson said. So, did something happen while they were in there? Ask yourself that question." He walked back his comments in a clarification later that day. Still, prior to his presidential run, Carson also compared the issue of same-sex marriage to bestiality and the North American Man-Boy Love Association during a 2013 appearance on Fox News. On its website, GLAAD maintains a list of Carson's transgressions on the issue as part of their commentator accountability project.
But with Carson's continuing slide toward irrelevancy, it's possible his latest gaffe won't have much of an effect either way.