Who Is Siddhartha Dhar? What We Know About Reported Militant in ISIS Video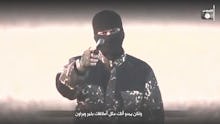 Mic/YouTube
A previously unknown individual that appears in a recent Islamic State group, or ISIS, terror video has allegedly been identified as Siddhartha Dhar, an East London resident who previously worked as an inflatable bouncy vendor, Reuters reports. In the ISIS video, the frontman identified as Dhar is shown on camera killing five men. ISIS accused the slain men of being spies for the U.K,. according to the BBC. 
Dhar, who also goes by Abu Rumaysah, left Britain in 2014, according to the BBC. Though the spokesman of the ISIS video has yet to be officially identified, "A lot of people think it is him," one unnamed source told the BBC. 
In the video, the masked assailant addresses the camera saying, "Oh people of Britain, know that today your citizenship is under our feet and that the Islamic State, our country, is here to stay. And we will continue to wage jihad, break borders and one day, invade your land where we will rule by the Shariah."
"Only an imbecile would dare to anger a people who love death the way that you love your life," he adds.
While working as a bouncy castle salesman, the father-of-four, who was born Hindu, reportedly converted to Islam and took up with a radical Islamic group called al-Muhajiroun. Dhar was also allegedly a devotee of a preacher named Anjem Choudary. Some are calling the suspect, who is 32 according to the Telegraph, the new Jihadi John, and in the video, he appears alongside a child who also addresses the camera in a British accent.
In a televised interview with Al Jazeera in August 2014, which was shared on YouTube, Dhar appeared during a newscast to comment on radical Islamic terrorism. "I think the West needs to tread their steps very carefully,"  Dhar told Al Jazeera. "They're not facing an organization like al-Qaida, they are facing a government which, for all intents and purposes, is bigger than France, bigger than the United Kingdom. And I think if they continue to bury their heads in the sand and be naive and think that this won't escalate, I think it's going to bring a lot of problems to the West."
"My message would be to stop the aggression against Muslims in the caliphate and I believe that if they don't do that, that Barack Obama will have much more blood on his hands," he added. 
Dhar is the second alleged "Jihadi John," the name given to a British Arab who appeared in multiple terror videos and who allegedly died in November after an airstrike in Syria, according to the Telegraph. 
The overlap between Dhar's place of birth and his Islamic radicalization has been explored by the media before. In a 60 Minutes segment uploaded to YouTube by the channel Irishinfidel, an account that is "dedicated to exposing the man-made origins of the Quran" and "includes videos made by ex-Muslims and skeptics." Dhar said, "I identify myself as Muslim. If I was born in a stable, I'm not going to be a horse. If I was born in Nazi Germany, I'm not going to be a Nazi. This is just the island I was born [on]."
Despite reports of the assailant's alleged identity, Dhar's sister has contested that it's her brother who appears in the terror video, according to Sky News. "He doesn't have the strong eyebrows that I noticed on the video," she told Sky News. Yet the Telegraph reported that having seen the video, both Dhar's mother and his sister recognize a similarity of voice between the assailant and their family member.