First Poll of the New Year Shows Trump Still Crushes the Republican Field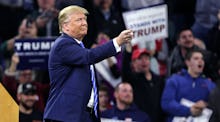 The Christmas stockings are down, the leftovers of ham and gingerbread cookies long gone — and lo and behold, Donald Trump remains the frontrunner for the Republican presidential nomination.
A NBC News/SurveyMonkey poll released Tuesday morning, the first of the new year, shows the billionaire businessman leading the GOP pack with 35% support, ahead of Sen. Ted Cruz of Texas at 18% and Sen. Marco Rubio of Florida at 13%. Retired neurosurgeon Ben Carson clocked in at 9%, followed by former Florida Gov. Jeb Bush at 6% and New Jersey Gov. Chris Christie at 4%. No other candidate registered more than 3% support.
The online survey of 3,700 adults, conducted from December 28 to January 3, is congruent with pre-holiday poll results that showed Trump comfortably atop the Republican field. The Real Clear Politics national polling average finds Trump at 35%, followed by Cruz at 19.5%, Rubio at 11.5% and Carson at 8.8%.
Staying power: Underscoring the likelihood that Trump will enter the nominating contests next month as a real contender for the party's nomination, the new poll finds that Trump has the firmest support of any Republican candidate seeking the White House. More than eight in 10 Trump backers said they were either certain they'd cast their ballots for him (51%) or that there was a large chance they'd do so (33%). By comparison, 36% of Cruz supporters said their support was set in stone and 49% said there was a large chance they'd wind up voting for him. Rubio's figures on those metrics were 26% and 49%, respectively.
The survey's release comes as Trump embarks for the first time ever on a traditional staple of presidential campaigning: a TV ad buy in early-voting states of Iowa, New Hampshire and South Carolina. Riding a wave of free media coverage, Trump had yet to hit the airwaves until this week, when he released an ad touting his proposed ban on foreign Muslims entering the United States and his call to build a wall on the U.S.-Mexico border. (The ad actually showed footage of immigrants in Morocco during the portion that was meant to show Mexican migrants stampeding into the U.S.)
Meanwhile, the NBC/SurveyMonkey poll also shows relative stability on the Democratic side of the 2016 contest. Former Secretary of State Hillary Clinton bests rival Sen. Bernie Sanders (I-Vt.) by a 17-percentage-point margin, taking 53% of the vote to his 36%. Former Maryland Gov. Martin O'Malley trailed the pair with just 2% support.