'The Bachelor' Twitter Lost Its Mind Over Chicken Enthusiast Contestant Tiara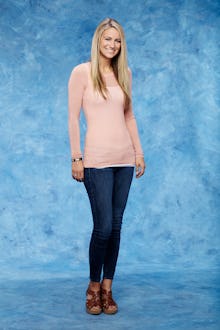 It was a veritable carnival on Monday night's premiere of The Bachelor, ABC's venerated reality franchise that features one man dating dozens of women at once to find his soulmate. This has resulted in exactly two still-standing marriages from 19 seasons. The 20th suitor at bat is Ben Higgins, who competed on the last season of the gender-swapped spinoff, The Bachelorette. He's an earnest guy with "small-town values" looking for love.
So, naturally, ABC served up a cast of women ranging from the drunken (Lace) to the deliriously quirky (Mandi).
Throughout the two-hour premiere, Ben looked at turns bewitched and bewildered as contestants showed up wearing rose headpieces and unicorn masks. One woman even brought her mini horse along for the ride.
And then there was Tiara. Occupation: chicken enthusiast.
Tiara didn't just come to The Bachelor loaded with a dash of quirk or a silly backstory; she brought a love of chickens along for the ride. She is serious about her chickens. Her only family photos are of chickens and Ben himself.
Initially, The Bachelor's rabid Twitter audience didn't know what to make of Tiara. What is a chicken enthusiast? Would she be able to give up her love for the chickens in favor of Ben? Is she really committed to the chickens?
Slowly but surely, however, Twitter recognized the potential in Tiara. A woman like her is reality TV gold. She had a bit, and she was sticking with it come hell or high rose ceremony.
Some even wanted to follow in her footsteps, though they had questions about what exactly being a chicken enthusiast would involve.
Soon enough, flying flagrantly in the face of common sense and contestants less invested in poultry, Twitter threw its weight behind Tiara. The chicken queen needed to take her place at the top of the coop.
Sadly, Tiara was eliminated at the end of the hour, while Mandy and Lace remained to execute their specific brands of twee and alcohol-fueled tyranny. But while she may not have been right for Ben, Tiara has plenty of willing suitors on the internet now. Let's hope she accepts Twitter's rose.