For the First Time, the NYPD Will Open Its Revolutionary Crime-Mapping Data to the Public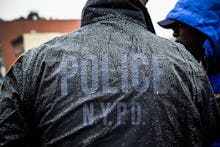 In the autumn of 1994, freshly minted New York City Police Chief William Bratton was at Elaine's, a bistro and favorite celebrity hangout of his, when his lieutenant Jack Maple proposed a new way of doing police work. Maple described a system that used data to map criminal activity to keep precincts accountable. He scrawled phrases like "accurate, timely intelligence" and "relentless follow-up and assessment" on the back of a napkin.
CompStat was born, and it would go on to become a national standard, a holistic management system for reducing crime based on data, for the next 22 years.
In February, the NYPD will roll out CompStat 2, a public version of CompStat that will take the data available to police officers and put it online for anyone to browse.
"It's taking the CompStat system and the information that we use internally, and finding a way to get it out to the public — to you in the media — in a much more intimate, transparent fashion," Bratton, now New York City Police Commissioner, told WNYC Monday night.
CompStat has been used nationwide for over two decades by departments of all sizes. In the past decade, more sophisticated visual mapping systems have become more common. Some systems use additional data sets like social media to "predict" where crime will occur on any given day or night.
The past couple of years have seen a small boom in Silicon Valley-style startups offering data analytics and predictive crime-mapping technology — companies making bold claims about what they can do when they apply machine learning and algorithmic insight to mountains of historical data.
"There's an ethical issue which completely gets overlooked."
But many of these crime mapping systems are proprietary systems police receive from private contractors. CompStat 2 will be a public-facing website with data that will allow users to explore various kinds of crime in their neighborhood, block by block, and even make their own charts and programs. 
Data journalists will be able to dig through the treasure trove to find new insights about how crime moves and changes throughout the city. They may ultimately hold the city accountable for keeping New York safe.
No information is available about the data's accessibility. We don't know if it'll adopt a modern user experience with responsive infographics or appear as nothing more than a raw spreadsheet.
Data discrimination: Even without crime mapping, police have always known which neighborhoods are high-crime and need attention or resources. But with that same information, the public could discriminate against certain areas.
If the sudden visibility of crime patterns, predicted in colorful illustrations like weather maps, allowed people to adjust their travel and behavior to avoid certain, crime-prone neighborhoods, it could divert the flow of commerce, foot traffic and economic growth away from areas that are already vulnerable.
"There's an ethical issue which completely gets overlooked," Christopher Herrmann, a former crime analysis supervisor with the NYPD, told Mic in October, long before the announcement of CompStat 2. "What's the impact of calling my street a high-crime street? Is it going to bring down property values, or is no one going to move in?"
"Departments have an ethical obligation to this data, because it could really wreak havoc on those neighborhoods."
Apps like SketchFactor, which lets you rate the relative "sketchiness" of a neighborhood, have drawn criticism for the inadvertent racism of profiling neighborhoods based on the paranoid observations of wandering pedestrians. Though CompStat 2 will obviously be rooted in data rather than subjective whim, identifying a neighborhood as "high-crime" based on historical data ultimately builds a profile of a neighborhood drawn from traditional police practices.
The problem is, saying that the data can't be prejudicial doesn't account for the police practices — the human behavior — that created that data in the first place.
"Departments have an ethical obligation to this data, because it could really wreak havoc on those neighborhoods," Herrmann told Mic.
Mic has reached out to the NYPD and will update with further comment upon response.