Carly Fiorina Says Donald Trump Reminds Her of Kim Kardashian — Here's Why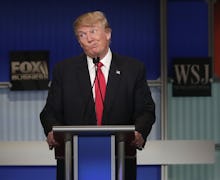 JOSHUA LOTT/Getty Images
In the latest case of presidential candidates insulting GOP frontrunner and business mogul Donald Trump, former Hewlett-Packard CEO Carly Fiorina said Tuesday that Trump reminds her of Kim Kardashian — and not because of his voluptuous behind.
"Donald Trump reminds me of the Kim Kardashian of politics," Fiorina tweeted Tuesday. "They're both famous for being famous — and the media plays along." Way harsh, Fiorina.
Read more:
Whether it be the media that's stimulating Donald Trump's likability among Republican voters or a number of other factors including his lack of political correctness, Trump is the clear frontrunner of the 12 remaining GOP candidates. In the most recent weekly NBC News/SurveyMonkey political poll released Tuesday, Trump polled at 35%, 17 points ahead of top challenger Texas Sen. Ted Cruz, while Fiorina lagged at just 3%. 
Fiorina isn't the only GOP candidate who bluntly insults Trump. During the fifth Republican debate, former Florida Gov. Jeb Bush, a once favorable candidate who now polls at 6%, said Trump is "great at the one-liners" but is "a chaos candidate" that would make "a chaos president." During the fourth debate, Ohio Gov. John Kasich said Trump's immigration strategy to deport 11 million illegal immigrants from the United States is "silly" and "not an adult argument."
In September, Fiorina gracefully shut Trump down after he insulted her looks during a GOP primary debate. "Look at that face! Would anyone vote for that? Can you imagine that, the face of our next president?!" he said in reference to Fiorina, to which she swiftly responded, "I think women all over this country heard very clearly what Mr. Trump said." Trump later said he was talking about her personality.