The Bodies of Two More Syrian Children Just Washed Up on the Shore of Turkey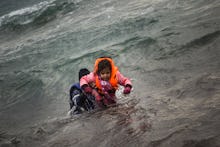 At least nine bodes of drowned migrants fleeing to Lesbos, Greece via boat washed up on Turkish shores, early Tuesday morning local time.
Bodies of those who made the doomed journey were discovered on the shores of Ayvalik, a popular Turkish resort town and place of departure for the perilous journey across the Aegean Sea as migrants attempt to cross from Turkey into Europe. 
Shortly after the bodies washed up, more drowned migrants — from a separate attempt at fleeing — drifted towards the shores Dikili, south of Ayvalik, local news outlets reported, according to Associated Press.
While eight people were saved by the Turkish coast guard, 21 bodies have been discovered thus far in this latest incident. 
Turkish news agency Dogan published video footage of the migrants' bodies — many wrapped in sodden winter coats — washing ashore. Editor's note: This link, as well as the photo below, contains disturbing footage. View with discretion.  
Tuesday's footage has prompted comparisons to Aylan Kurdi's story — the 3-year-old Syrian boy who drowned during an attempt to flee with this family and whose body washed up on Turkish shores. The image of his lifeless body, face down on the beach, produced international outrage at what many perceived as an inadequate response to the refugee crisis. 
The International Rescue Committee — a humanitarian organization leading many of the efforts in the crisis — has been loudly critical of the United States' lack of involvement. 
"With 4 million living in limbo and tens of thousands making desperate choices to reach safety, the U.S. has a moral responsibility to lead and is fully equipped to respond in a far more robust way," David Miliband, president and CEO of the International Rescue Committee, said in a September press release.
"The U.S., to fulfill its role as a historic leader of refugee resettlement, has got a massive job to do to step up to the scale of the [refugee] crisis," Miliband told Mic in December.
Some countries have made enormous efforts to help mitigate the crisis, such as Germany, which said in September it would accept half a million refugees annually. Still, other countries are finding meeting those goals is harder than it originally seemed. Canada, which originally planned to accept 25,000 refugees by the end of 2015 pushed that mark back to a more realistic 10,000, and still fell short of that number by 4,000. The crisis has been the source of much heated debate in the United States where more than half of the country's governors and presidential candidates alike have been hesitant, if not hostile, in their various approaches. 
The current flow of people fleeing violence and political volatility in the Middle East is, however, unsustainable and the European Union is now offering financial support to Turkey in exchange for preventing refugees from leaving their shores, Agence France-Presse reports.