Judge Rules That City of Chicago Lawyer Hid Evidence in Police Shooting of Darius Pinex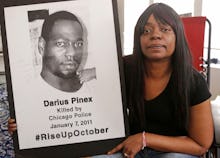 A lawyer for the city of Chicago hid evidence that would have changed the outcome of a recent police-involved shooting lawsuit, a federal judge ruled Monday.
Attorney Jordan Marsh, who resigned after the judge's announcement, was found to have concealed a radio transmission that proved the officers involved in the shooting were lying about what the dispatcher told them about their eventual victim, according to DNAinfo Chicago.
Lawyers for the family of Darius Pinex — who was killed by Officer Raoul Mosqueda during a traffic stop in January 2011 — were not made aware of the recording until well after the start of the trial, a fact the judge said negatively affected the outcome for their clients.
The jury trial ended in February, with the ruling that the officers were justified in killing Pinex.
The narrative of events told by Mosqueda and his partner, Officer Gildardo Sierra, held that their dispatcher had described an Oldsmobile sedan with a specific temporary license plate and armed occupants inside — evidence given as the reason the officers pulled Pinex over in the first place, and why they approached his car with their guns drawn.
But the recording — which Marsh claimed did not exist — directly contradicts the officers' version of events. It turns out the dispatcher actually described  a different temporary license plate than the one on Pinex's car, and did not say the occupants were armed. 
These details proved significant in explaining why Mosqueda and Sierra acted as they did. Pinex attempted to flee when the officers approached him, and Mosqueda opened fire, killing him.
On Monday, U.S. District Judge Edmond Chang reversed the jury's February 2015 decision, saying the withheld evidence entitled Pinex's family to a new trial. "After hiding that information, despite there being numerous times when the circumstances dictated he say something about it, Marsh said nothing and even made misleading statements to the court when the issue arose," Chang wrote, according to the Washington Post.
Chang's decision comes at a fraught time for Chicago's police and administrators. Since video was made public in November of a Chicago police officer fatally shooting 17-year-old Laquan McDonald, the city has been mired in protests, with many calling for Mayor Rahm Emanuel — who has been accused of trying to hide the recording of the incident — to resign.
Since then, the city has released evidence and videos related to other police-involved killings, while the federal Department of Justice has opened an investigation into the practices of the Chicago Police Department.
h/t DNAinfo Chicago