This Year's Coachella Lineup Features More Female Acts Than Ever Before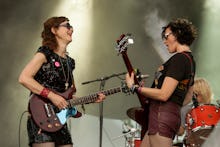 The Coachella Valley Music and Arts Festival released its lineup on Tuesday, and one thing immediately stood out: Beyond its two fist-pump-first, listen-later headliners, Guns N' Roses and Calvin Harris, and the long-awaited confirmation of LCD Soundsystem's uncertain reunion, Coachella 2016 will be featuring a much higher number of female acts than usual. Pop acts like Ellie Goulding, Sia and CHRVCHES adorn the second rows of the announcement graphic, while female-led EDM, indie and punk acts such as Tokimonsta, Wolf Alice and Sheer Mag stand out amid the normally dude-laden lineups.
Since its inception in 1999, Coachella has maintained a reputation for brocentricity, in both its audience and its lineups. The festival usually averages about 16% female-led acts, according to a 2013 BuzzFeed retrospective of every year's lineup since 1999. According to that article, there has never been "more than a 25% female lineup." In 2015, Coachella featured 26 female-led acts, which comes out to around 16% of its nearly 160 artists, according to the Washington Post. 2014 featured only 28. 
This year, however, Coachella has booked a total of 44 female-fronted or co-fronted bands, which comes out to about 27% of the lineup. Women in music have officially broken through the Coachella's quarter-festival ceiling, if only by two percentage points. Here's how that victory looks on the festival's graphic.
It's hardly full representation, but it's a start. The issue of gender disparity at music festivals has become a major talking point in recent years, not only at Coachella, but also at music festivals around the world. A 2015 Nielsen survey reported that women and men attend music festivals in roughly equal numbers, with women actually a few percentage points ahead. Yet across the board, we see the lineups of major festivals like Lollapallooza and Bonnaroo peaking at around 20%.
It's not like female-led acts aren't out there, and it's not a deliberate decision of festival bookers. "I certainly don't think it's because booking companies are saying, 'Oh, we're going to put women at the bottom of the lineup,'" music writer Evelyn McDonnell told Salon in 2013. "The men of power who are in this industry have this internalized, institutionalized sexism. They see men as having economic power and therefore get billed."
A 2015 Guardian interview with show promoter Melvin Benn, who curates the Reading and Leeds and Latitude festivals, seemed to confirm that impression. "Putting a festival on is a monstrous financial risk," Benn said. "The only way I balance the books is selling tickets. Why do you think we book the same male acts again and again? Because they sell tickets. Trust me, if there was a female headline act in the rock genre that sold the same amount of tickets as any one of the headline acts this year, I'd book them."
That's why when you take all the female-acts out of lineups like the Reading and Leeds festivals, you get blank canvases like this:
Only two female-led acts have ever headlined the Coachella festival: Bjork, in 2002 and 2007, and Portishead, in 2008. That won't change this year, but the festival has reached an all-time high in terms of female representation. All these acts will now enjoy have huge stages to help them build their names and fan bases. Equal billing of women in those headlining slots gets closer every year.