Taylor Swift's Acoustic Version of "Wildest Dreams" Is Pure Brilliance — Watch It Here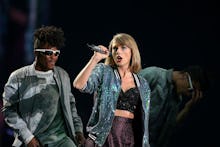 Graham Denholm/Getty Images
In September, the inimitable Taylor Swift gave a private concert at the Los Angeles Grammy Museum's Clive Davis theater to mark the close of her attendance record-breaking exhibit the Taylor Swift Experience. A video of Swift's piano version of "Out of the Woods" for the exclusive show went viral when it was posted to YouTube in October — now, a new video of the singer-songwriter performing acoustic version of "Wildest Dreams," posted to YouTube Monday, is just as chilling.
The platinum artist stripped away the backup instruments for this special performance of "Wildest Dreams," leaving just Swift, her signature red lips and electric guitar on a small stage to play on fans' heart strings with an even more intimate version of the romance ballad. 
Read more:
Swift released the official music video for "Out of the Woods" on New Year's Eve, which features the muddied singer venturing through the woods in harsh weather before she escapes and it all disappears, which Swift said was a metaphor for a past relationship that gave her anxiety during her September Grammy Museum performance.