The Self-Driving Car of the Future Will Have a "Netflix and Chill" Option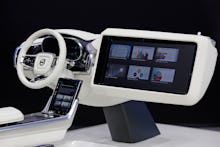 Companies from Uber to Google are working on self-driving cars. But if cars are driving themselves, what are riders supposed to do? Volvo has the answer: marathon Making a Murderer on Netflix.
At least that's one option the car company is building into its autonomous vehicle, Concept 26. During CES 2016, Volvo said it's working with Ericsson to put high-definition streaming systems in its cars so riders can chill and watch movies.
The partnership with Ericsson is key. One of the biggest hurdles to streaming while driving is securing a reliable network connection. As many drivers know, it's difficult to get a signal through long stretches of backcountry roads and mountainous parkways. To avoid constant buffering and failed streaming, Ericsson is facilitating a fast and steady data supply through cloud services specifically tailored for in-car streaming.   
Volvo and Ericsson aren't stopping at streaming either. The duo want to help riders decide what to watch. Volvo's system will compare TV show and movie lengths against potential routes to serve up suggestions for what passengers can watch while in transit. 
The car will take routes based on the length of a show. For instance, if a passenger wants to watch two episodes of Master of None but the fastest path to her destination is 45 minutes, Volvo's system will add another 15 minutes to the route so she can watch both episodes to completion.  
Those unimpressed with in-car Netflix streaming (maybe they've watched too much Knight Rider?) can take solace in a separate partnership Volvo is cultivating to add voice control to its concept car. Volvo is teaming up with Microsoft so car owners can put a destination into navigation, lock doors, set off the car horn and heat up the vehicle remotely from Microsoft's wearable Band 2. 
It may be a long time before drivers feel comfortable enough to fully take their eyes off the road and relax, but Volvo is envisioning a future where they can.