'Teen Mom OG' Season 6 Episode 1 Recap: Breakups, Custody and Bentley's Return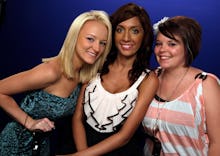 Richard Drew/AP
Farrah Abraham, Maci Bookout, Amber Portwood and Catelynn Lowelll reunited as the four original teen moms on Monday night for the back-to-back season six premiere of Teen Mom OG on MTV. The episode kicked off the series' sixth season and did not fail on its reputation for mama drama.
Most of the conflict stems from the sets of parents. Portwood and her ex Gary Shirley struggle to balance shared custody of their daughter Leah, the International Business Times reported. Leah admits to Shirley's girlfriend that her mom just sleeps and stays at home, letting her current fiancé Matt do everything. Portwood takes Shirley to court for 50/50 custody, Wetpaint reported.
But Portwood has been battling anxiety since being sober, adding that she is uncomfortable taking prescription pills although she is bipolar, according to US Magazine.
Bookout, who pulled her son Bentley out of the 5th season, also tries to mend things with Bentley's father Ryan Edwards by inviting him on a mud run with her and current beau Taylor McKinney, the International Business Times reported. He bailed last minute.
Abraham also has some ex-time when she learns Simon Saran, who she broke up with in Season 5, doesn't want to commit to a relationship again over what was supposed to be a romantic dinner. She called him some hostile names, he called her daughter Sophia "the kid" and the two part ways, the International Business Times reported. In a voiceover, Abraham claimed she cut all ties with Saran, Wetpaint reported.
There was more drama between Abraham and her mother Debra. Abraham got into an emotional argument with Debra over taking care of Sophia, leaving Debra in tears, the International Business Times reported.
On the other paternal front, Tyler Baltierra's father Butch, who announced his single status after finally being released from prison, Ok! Magazine reported. 
High school sweethearts Baltierra and Lowell, who were engaged but are now married, are also prepping for his bachelor party—to Lowell's dismay. "Even if it's an hour of ass and titties and beer, she can't be pissed about strip clubs," Baltierra told a friend, according to US Magazine. 
Lowell, who gave birth to Novalee Reign in January 2015, goes wedding dress shopping, saying, "I am comfortable— I feel good. Life's life — things happen. Things are gonna happen. Bodies change all the time."
Teen Mom first aired seven years ago in 2009.