Oculus Rift Pre-Orders: Here's How to Get One Early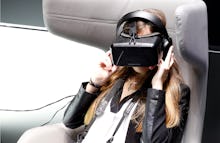 Chesnot/Getty Images
In 2012, virtual reality company Oculus VR started a Kickstarter for its first virtual reality headset Oculus Rift. In 2014, the campaign raised more than $2 million and Facebook bought the company for $2 billion. Three and-a-half years later in 2016, the long-awaited Oculus Rift headsets will be available for pre-order on Wednesday at an undisclosed price. Aside from Oculus VR's Monday announcement on its blog, there's not much information on how to pre-order the Oculus Rift — but the company said it will share everything consumers need to know about ordering the virtual reality wearable when it goes live Wednesday at 11 a.m. Eastern.
The device will come as a bundle with video game Lucky's Tale by Playful Corporation and the upcoming dogfighting shooter game EVE: Valkyrie by CCP, according to the blog.
Though there's no confirmed price tag on the futuristic tech wearable, Oculus CEO Brendan Iribe said at Code Conference in May that the device will cost roughly $1,500 including a paired PC that costs under $1,000, CNET reported.
Oculus founder Palmer Lucky will engage in a Reddit Q&A Wednesday at 9 p.m. Eastern. 
In a June pre-Electronic Entertainment Expo press conference, Oculus VR made the latest announcement of Oculus Rift features including special engineering to avoid neck strain, a sound system that adjusts with distance and Oculus Touch, handsets that allow realistic hand movements to control the game.
"The headset displays a fully immersive 3D experience that makes you feel like you are actually in the game," Mashable tech editor Samantha Murphy Kelly said after testing out the device in 2014, adding that it "could revolutionize the way people interact with others online.