This Washing Machine Requires No Electricity — Just a Little Exercise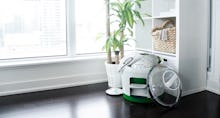 Drumi — a funky, new household product — is a washing machine. But instead of electricity, the R2-D2-looking device uses a pedal, which means you can knock out a little exercise and laundry in one fell swoop. 
The gadget comes courtesy of Yirego, a Canadian household-product design firm. It resembles a crockpot or a rice cooker and has a relatively simple setup. It needs 5 to 10 liters of water to wash and an additional 5 to 10 liters to rinse. It can hold up to 5 pounds of clothing at a time, and takes only five to 10 minutes per load. In a novel twist, there's no electricity required — it uses a pedal to run entirely on foot power. 
According to Yirego, the Drumi uses 80% less water and soap than a normal washing machine.
The concept was born in July 2013, when company founder Yi Jiang, who was living in Toronto at the time, noticed problems with "the laundry process within urban areas," according to the group's Indiegogo page. Drumi's compactness and portability presumably comes from a similar place: According to Yirego, it's ideal for those living in small or remote places — you can even take it camping.
"Many apartments and condos in urban areas do not have in-unit, private laundry. As a result, urbanites are forced to use public and shared facilities. These are costly and often unhygienic," the company wrote on its website. Instead, the Drumi provides quick, easy and cheap relief from dirty clothes. 
The Drumi currently has an active Indiegogo campaign, and it has already hit its goal of $100,000. (The campaign ends on Saturday.)
There are other mini-washers out there (like this one and this one), but Yirego said the Drumi is the world's "favorite" foot-pedal washing machine.
It's gone through many different iterations, including three different prototypes, since its conception.The Indiegogo page notes Yirego expects to begin shipping out the final product in September and October 2016. It's currently listed at a pre-order price of $209.
Correction: Jan. 12, 2016