Hillary Clinton 2016: Latest Polls, News and Updates on Presidential Candidate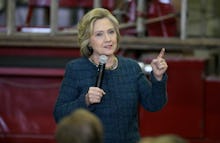 Charlie Neibergall/AP
Throughout the early months of the 2016 presidential race, Democratic frontrunner and former Secretary of State Hillary Clinton has continued to hold a comfortable lead with her party over her closest challenger, Vermont Sen. Bernie Sanders. She's also been favored over GOP frontrunner Donald Trump among likely American voters, should it come down to a Clinton-Trump face-off in November, according to the latest Quinnipiac University Poll, released Dec. 22.
With less than a month before the Iowa caucus on Feb. 1, Clinton holds 61% among the Democratic vote to Sanders' 30%, with former Maryland Gov. Martin O'Malley sitting at a distant 2%, according to the poll. Additionally, when matched with Trump, voters back Clinton as commander in chief by 47% to Trump's 40%. This is likely due, in part, to 50% of American voters admitting in the poll that they would be "embarrassed" to have Trump as president.
"Hillary Clinton tops him," Tim Malloy, assistant director of the Quinnipiac University Poll, said in a statement. "Sen. Bernie Sanders hammers him, and Sen. Ted Cruz is snapping at his heels. Can a candidate half of the American electorate thinks is an embarrassment win in November? " 
Harry Enten of FiveThirtyEight has compared the 2016 Democratic primary race to the one in 2000 between eventual candidate Al Gore and chief contender Bill Bradley. Gore's and Clinton's campaigns have many similarities — both have been widely endorsed by the party. For this year's race, the endorsements will likely quell any comeback by Sanders in the polls, much like it did for Bradley in 2000. 
Hitting hard on income inequality: According to the New York Times, Clinton began broadcasting new television and radio ads in parts of Iowa and New Hampshire on Dec. 29 in which she explains and laments the wage gap in America. The commercials have garnered some attention with political pundits because of their distinct similarities to Sanders' platform. The first issue highlighted on his campaign page — and a frequent topic of conversation for the Vermont senator — is "income and wealth inequality."  
Clinton's TV ad pledges to raise the minimum wage while conversely lowering taxes for the middle class.
However, in contrast to Sanders' main message, Clinton's ads also spotlight the continued pursuit of equal pay for women — a constant rhetoric in her speeches and a main issue on her campaign page.
Bill on the sidelines: On Monday, Bill Clinton joined Hillary Clinton on the campaign trail in New Hampshire, where he was notably less contentious than he was in 2008 when his wife faced current President Barack Obama in the primaries. That year, Bill Clinton called Obama's campaign the "biggest fairy tale" he'd ever seen. 
This time around, Bill Clinton placed little emphasis on specific candidates in the race from both parties and instead focused on why his wife would be the best fit for the job and why he wasn't as fired up this time around.
"I don't fit anymore [in the current political climate]," the former president said in New Hampshire, according to the New York Times. "First of all, I'm a happy grandfather. I'm not mad at anybody."
Bill Clinton is expected to continue campaigning for his wife with slated stops in Iowa on Thursday.
Correction: Jan. 5, 2016