Here's Why Netflix Is Losing So Many Movies — And Why It's Ordering So Many TV Shows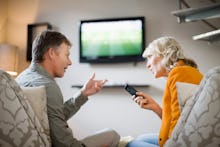 If you've been noticing fewer movies on Netflix, don't worry — it's not just you.
In the past three months, Netflix's instant streaming service dropped 163 movies from its library while only adding 131 titles. Considering the size of Netflix's library (in the thousands, though Netflix doesn't specify how big it is), a drop of 32 movies over three months doesn't seem that steep. But for a service that is growing larger years after its inception and upping their rates, the fact that its losing titles at all feels counterintuitive.
Despite evidence otherwise, this isn't a simple case of a company charging more for less. It's just a shift in strategy.
In August of last year, Netflix let a deal with the cable network Epix expire that removed titles like The Hunger Games: Catching Fire and The Wolf of Wall Street. In a smart move for a service that isn't known for its film library, Hulu picked up the deal and quickly put those titles on their own service.
Yet as Variety noted at the time, it was smart to let the deal expire. The Epix movies were on Amazon Prime anyway, and Netflix wants more exclusive content. Each show or movie that can't be seen elsewhere makes the service all the more necessary. 
Besides shoveling out a ton of money to companies like Disney, there's only one way for Netflix to get more exclusive content: create their own.
Netflix is doubling down on original content production in 2016. The streaming service has 31 series in the pipeline for this year — up from 16 in 2015. Additionally, Netflix continues to look for new original film opportunities — a quest they could quickly extend if their prestige drama Beasts of No Nation gets several Oscar nominations later this month.
None of these series or films will ever find their way to Amazon Prime or Hulu. By creating their own, Netflix essentially safeguards themselves against their competitors and continues to add value. Said value means Netflix can continue to charge more. For those loving Unbreakable Kimmy Schmidt: Can you live without it? Would you pay $15 a month for it? $20?
Of course, there are drawbacks that come with such an increase in price. Netflix has avoided landing on the most-pirated shows list in large part because its programming is accessible. Were they to limit access financially, illegal download numbers would likely grow.
Still, for now, Netflix is playing a smart game. The decreasing number of films available may irritate users, but every dollar spent on keeping acquisitions is money lost on making new material. Not surprisingly, the service is betting the sheer amount of original content makes up for it.