Rapper Gucci Mane's Prison Release Date May Be Set for March — Here's What We Know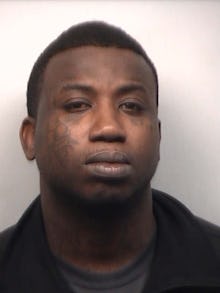 Rapper Gucci Mane may be released from prison early in March, according to an Instagram post from his label 1017 Records. His Twitter and Instagram accounts also mysteriously vanished this week, Complex reported Sunday. The Federal Bureau of Prisons has Gucci Mane's release date slated as March 6, according to BET.
"Guwop get out in March 2016," the photo's caption said. 
Sean Paine, who produces music for Gucci while he's in jail, says Gucci Mane is ready for a fresh start, Pigeons and Planes reported. "He wants to wait until he gets out to build anticipation and resurface everything under the new Gucci brand," Paine told Pigeons and Planes. 
In 2014, Gucci Mane, whose real name is Radric Davis, pleaded guilty to a federal firearms charge, according to Billboard. In September 2013, he was caught with a gun twice, the second time he was arrested for smelling of marijuana and threatening police with a Glock handgun, Billboard reported. The charge could've put him in jail for up to 10 years, but prosecutors recommended him three years and three months. Later, a judge ruled Gucci Mane's his sentence started when he was arrested in November, making his release date sooner, Rolling Stone reported. His release date could have been as late as 2017, Pigeons and Planes reported.
In early December, Gucci Mane posted on his now-deleted Instagram that he would be released earlier than originally set, XXL reported. "I get out sooner than later," he wrote. 
Prison hasn't stopped him rom releasing music and keeping in touch with his fans. He's dropped Trap House 4, The Oddfather and Gucci Vs Guwop while behind bars, according to Rolling Stone. He even dropped a Christmas-themed mixtape called East Atlanta Santa 2: The Night Guwop Stole XMas, which featured Post Malone and Young Thug, Complex reported. In October, he wrote an open letter to fans, calling himself a machine, XXL reported.