2016 Golden Globes Host Ricky Gervais' Most Controversial Moments From Past Shows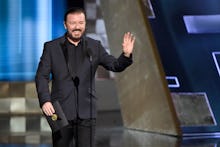 Chris Pizzello/AP
Tina Fey and Amy Poehler did a fine job of hosting the Golden Globes the past three years, but the award show's 2010 to 2012 host Ricky Gervais will return to host the 73rd annual Golden Globe Awards on Jan. 10 at 8 p.m. Eastern because NBC missed his controversial, crude, yet downright hysterical humor that earned the show a significant ratings boost for that time period, Deadline reported.
"Tina and Amy are a hard act to follow, but Ricky is completely fearless and entirely up for the job," NBC president of alternative and late-night Paul Telegdy said in a statement, according to Deadline. "He always did us proud. Welcome back, Ricky."
Read more: 
When NBC called Gervais' hosting style "fearless," they may be referring to the time he said Justin Bieber could only impregnate a woman if he used Martha Stewart's turkey baster during his 2012 opening monologue — or maybe the time he said the special effects team for Sex and the City 2 deserved a Golden Globe for making the cast look young on the movie poster. It should be a right of passage that famous actors be the target of a controversial Gervais joke at the Golden Globes.
Here are 12 of Gervais' most controversial jokes at past Golden Globes:
2010
"Actors aren't just loved here in Hollywood; they are loved the world over. ... You could be in the Third World and you get a glimpse of a Hollywood star, and it makes you feel better. You could be a little Asian child with no possessions and no money. But you see a picture of Angelina Jolie and you'd think, 'Mummy!'"
"I like a drink as much as the next man. Unless the next man is Mel Gibson."
"On a serious note, just looking at all the faces here reminds me of some of the great work that's been done this year — by cosmetic surgeons."
2011
"It's going to be a night of partying and heavy drinking, or as Charlie Sheen calls it: breakfast."
"I was sure that the Golden Globe for special effects would go to the team that airbrushed that [Sex and the City 2] poster."
"Jim Carrey and Ewan McGregor [in I Love You Phillip Morris]: Two heterosexual actors pretending to be gay. So the complete opposite of some famous Scientologists, then."
"Talking of the walking dead, congratulations to Hugh Hefner, who is getting married at age 84 to 24-year-old beauty Crystal Harris. When she was asked why she was marrying him, she said, 'Because he lied about his age. He told me he was 94.' ... Hold out, and just don't look at it when you touch it."
"Our first presenter is beautiful, talented and Jewish, apparently. Mel Gibson told me that; he's obsessed. Please welcome Scarlett Johansson." 
2012
"Justin Bieber nearly had to take a paternity test. What a waste of a test that would have been. No, he's not the father. The only way that he could have impregnated a girl was if he borrowed one of Martha Stewart's old turkey basters." 
"The Golden Globes are to the Oscars what Kim Kardashian is to Kate Middleton, basically. What? A bit louder, bit trashier, bit drunker and more easily bought, um, allegedly nothing's been proved."
"Bit of trivia for you: Eddie Murphy and Adam Sandler, between them, played all the parts in the movie The Help. Isn't that brilliant?"
"I musn't mention Mel Gibson this year. Not his private life, his politics, his recent films and especially not Jodie Foster's beaver. I haven't seen it myself. I've spoken to a lot of guys here; they haven't seen it either. But that doesn't mean it's not any good."
Jan. 5, 2015, 2:46 p.m.: This story has been updated.