President Obama Highlights Zaevion Dobson's Heroics During Speech on Gun Background Check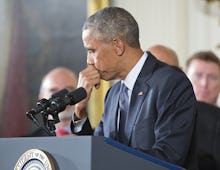 Those who tuned into President Barack Obama's address Tuesday morning, in which he unveiled his new executive action on gun control, heard him mention the name Zaevion Dobson. For those who missed it, Dobson was a 15-year-old boy who died shielding a group of girls from gunfire in December. Following the boys death, the president tweeted praise for the boy and questioned the country's failure to act on the issue of gun violence.
"Zaevion Dobson died saving three friends from getting shot," Obama said. "He was a hero at 15. What's our excuse for not acting?"
On Dec. 17, as CNN reported, Dobson incurred fatal injuries when he dove atop three girls "to shield them from a spray of bullets" thought to have been fired by a group of men affiliated with local gangs. 
One of the men suspected of firing the shots that killed Dobson died the same evening, CNN reported, and the police had two other suspects in custody at the time. The girls involved were all uninjured.
A football player and a mentor to his fellow students at Knoxville, Tennesee's Fulton High School, the sophomore was well-liked by both his peers and dreamed of becoming a football player and coach, according to CNN.   
"This is a fine, fine young man who is a success story," said Dobson's football coach, Rob Black, following the incident. "And I want to try to continue to celebrate the life that he had here and the impact that he made on his peers."