Wind and Solar Are Booming — Even Though Fossil Fuels Are Cheaper Than Ever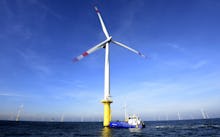 If you drive a car, you've probably noticed a welcome trend: Gas prices are at rock bottom. Costs across the country have been at their lowest in years; the price of oil, once sitting pretty at around $100 a barrel, has slumped to less than half that number. 
It may seem that competitors of the fossil fuel industry, like solar and wind power, should be seeing an analogous fall in demand. Instead, the opposite has happened. Business is booming.
"Renewables have turned a corner in a fundamental way," Dan Reicher, the executive director of Stanford University's Steyer-Taylor Center for Energy Policy and Finance, told the Washington Post.
Alternative energy is thriving. Vestas, the largest wind turbine company in the world, has seen a massive jump in stock prices since 2012. The company also announced a string of new partners in 2015, including firms in Brazil, China, the United States, Finland, Greece and the United Kingdom. 
"We're seeing very good momentum across the board globally," Vestas CEO Anders Runevad told the Washington Post. "We're seeing growth in every region."
As Bloomberg noted in August, Vestas and other wind turbine companies have benefitted in part from a combination of cost cutting and increased demand. "The market is definitely strong this year, and it's a combination of policies and political will to tackle climate change and to increase the share of renewables," Runevad told the outlet.
In the United States alone, wind power reached 70 gigawatts in December — enough power to light 19 million homes, according to Michael Goggin, the American Wind Energy Association's senior director of research.
Solar power, meanwhile, is also growing. According to a September press release from the White House, the number of houses with rooftop solar panels installed jumped from 66,000 to 734,000 since President Obama entered his first term in office. The same report noted that the solar industry's job growth was 10 times faster than any other sector in 2015. 
According to a report from GYM Research and the Solar Energy Industries Association, the U.S. was projected to ramp up 3 gigawatts of solar capacity in the last quarter of 2015 alone. This brings 2015's total to 7 gigawatts, and the report predicted that by the end of 2016, the U.S. will have 41 gigawatts of solar energy on hand. (For comparison, the U.S. needs around 1,000 gigawatts of electricity to keep its energy grids running.)
Fossil fuel prices are falling, and it's related to demand. Last January, Saudi prince and millionaire businessman Prince Al-Waleed bin Talal told USA Today that oil prices would never reach $100 a barrel again.
"I'm sure we're never going to see $100 anymore. I said a year ago, the price of oil above $100 is artificial. It's not correct," he added.
As the Washington Post noted, even China — which eats up more coal than any other country in the world, and leads the pack in greenhouse gas emissions — has seen a decline in demand for coal and an uptick in solar and wind investment. 
The reasons for the drop in oil prices are complicated, but as the New York Times reported last month, it largely comes down to a matter of demand. 
"United States domestic production has nearly doubled over the last six years, pushing out oil imports that need to find another home," wrote Clifford Krauss. "Saudi, Nigerian and Algerian oil that once was sold in the United States is suddenly competing for Asian markets, and the producers are forced to drop prices. Canadian and Iraqi oil production and exports are rising year after year. Even the Russians, with all their economic problems, manage to keep pumping."
But the low prices haven't been enough to drive down demand for alternative energy. Some of the demand can be traced to key initiatives from Wall Street, Congress and global leaders. 
In November, for instance, Goldman Sachs announced that it was set to invest $150 billion in renewable energy worldwide by 2025 — an increase of nearly four times its 2012 target of $40 billion. In September, six major banks, including JPMorgan Chase, Bank of America, Citigroup and Goldman Sachs, all promised to increase their investments in clean energy.
In the government sector, the moves have been equally as encouraging. In December, Congress approved the 2016 budget deal, which included an extension of tax credits for wind and solar power companies.
"This plan will drive more development, and near-term prospects look strong as utilities, major customers and municipalities seek more low-cost, emissions-free renewable energy," Tom Kiernan, CEO of the American Wind Energy Association, told the Associated Press.
The recent climate deal talks in Paris — which concluded with strict mandates on how and when action on climate change will happen — didn't hurt the alternative energy industry, either.
It's not a sure thing, but the future doesn't look too shabby. Like any other industry, renewable energy has its own unique hurdles — its market share is currently dwarfed by electricity, for example — but for many, things are appear to be looking up.
"We are experiencing a clean-energy revolution in the United States," said Energy Secretary Ernest Moniz in November. "We have the tools for a cleaner and more secure energy future."
h/t Washington Post