Jerry Buting From 'Making a Murderer' Has Become a Sex Symbol on Twitter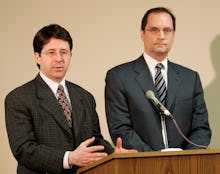 Patrick Ferron/AP
Netflix's newest hit documentary series Making a Murderer, has not only peaked the public's intellectual interest and thirst for justice, it has also invited a different kind of desire. Unsurprisingly or not, fans of the series are head over heals for two of the chief criminal defense lawyers featured in the show, Dean Strang and Jerry Buting. There's been an outpouring of affection for Strang so far, and it appears that now Buting's not chopped liver in the eyes of many beholders.  
Many on social media point out that their affections for Buting and Strang lie in the admiration they have for the lawyers' devotion to Steven Avery's case and their tireless efforts to win his freedom. Avery was wrongfully convicted of sexually assault in 1985 and served 18 years in prison before he was exonerated by DNA evidence. Avery was then convicted in 2007 for Teresa Halbach's murder and sentenced to life without the possibility of parole. 
Read more
All kinds of compliments are getting tossed Buting's way, and many users on social media are collectively likening the lawyer's appearance to American actor Andy Buckley's character David Wallace on the television comedy the Office. 
So here you have it, in the name of championing justice, a feast of photos of Buting in action:
Buting being a badass:
Buting dazzling the courtroom:
Buting sneering at his challengers:
Buting's support knows no limits:
The back of Buting's head, which makes Twitter swoon:
Buting's gesturing right hand is never a disappointment to his admirers. 
Buting's hand making an important and smart point:
Buting and Avery sharing a knowing smile.