Fitbit Announces New Product, "Blaze" — But It's Missing One Vital Feature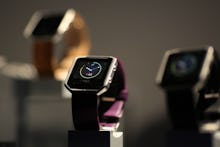 David McNew/Getty Images
Fitbit had a good thing going for it: as of May 2015, it had reportedly sold over 20 million of its wearable fitness trackers since its 2007 debut; the device even spawned a New Yorker essay by author David Sedaris, prompting people the world over to keep count of their steps. But when the company introduced the Fitbit "Blaze" — its answer to the Apple Watch — at the Consumer Electronics Show Tuesday, its stock tumbled. Why? There are a handful of reasons, not least among them the fact that Fitbit's smart watch (which will retail for around $200) lacks one basic feature: a built-in GPS.
"It's not about all the extras or putting everything from your phone on your wrist," Fitbit's Chief Business Officer, Edward Scal, reportedly said, comparing the Blaze to the Apple Watch. "What you need to maximize your workouts is a tool, not a toy."
Read more:
Without a GPS, though, it will be hard for some users to use the Blaze as an effective fitness tool. The absence of this vital feature didn't go unnoticed by the Twittersphere:
Why a GPS is important: According to the Verge, the Blaze will source GPS data for the user's smartphone, which is perfect if "you run or cycle with your phone in tow." But if you have to carry your phone to track your workout route, and if your phone includes fitness features  — both iPhones and Androids are compatible with a variety of workout apps — then why wear the Blaze at all? A watch that exists to keep consumers from having to wear their phones on their wrists, but occasionally requires them to carry their phones in their hands is a bit of a paradox, some tech followers have pointed out.
The original Apple Watch, it bears mentioning, is also GPS-free: wearers have to run with their phones if they want to plot their routes. Fitness watches like the Fitbit Surge, however, do include a GPS, making it an arguably more utilitarian model for the outdoor exercising set.
What does it have? The Blaze isn't without its merits, though. It will track users' steps, the number of calories they burn, the amount and quality of sleep they get as well as their aerobic activity, which the watch registers and records automatically. According to Wired, it can sense exactly what kind of workout the wearer is doing — Wired offers Zumba as an example — thanks to a technology called SmartFit.  Users will also be able to download fitness apps and will have access to a menu of 15 exercises, the Verge reported. And along with its fitness functions, the watch includes some basic smartphone functions: call, text and calendar notifications, plus music. 
Is it just another Apple Watch? The Blaze certainly looks similar to Apple's model, featuring a similarly shaped face. According to the Verge, it has an LCD touchscreen display — the Apple Watch boasts an OLED, sapphire crystal display — that pops out of its frame, so users can switch the device itself into other bands (rubber, metal, or leather) for wardrobe versatility. The Apple Watch doesn't do this and is fairly limited in terms of design. 
But as Scal points out, it's not meant to be a replacement for or extension of the user's smartphone. Its primary purpose is to track the wearer's fitness; that's one of many things an Apple Watch is meant to do. Whether or not it does is another question that may be resolved by the Apple Watch 2, rumored to release in 2016. Stay tuned.