A Woman's Home Was Trashed After Her Airbnb Guest Allegedly Threw a New Year's "Mass Orgy"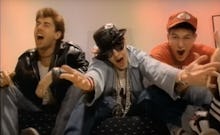 Christina McQuillan rented out her £500,000 (approximately $733,000) London apartment on Airbnb for New Year's Eve to a woman who said she only wanted it to crash.
But after the 31-year-old host's neighbors called her to complain about noise and the stench of marijuana coming from her home, she returned before midnight to find almost 100 people raging in her completely trashed one-bedroom apartment. 
"When we got there the doors were wide open," she told the Mirror. "There was loud music and everyone was smoking drugs."
But McQuillan offered the Evening Standard a far more colorful description, calling the scene to which she returned a "mass orgy."
The 31-year-old said she tried to stop the party, but was sucker punched in the stomach and scratched. 
"My boyfriend then went into the bedroom to turn off the power," she told the Mirror. "There were two people having intercourse on the bed while a crowd of people were watching — it was disgusting."
"We were called just before midnight on New Year's Eve to a flat in Buer Road SW6," a police spokesman said. "A female aged 31 was assaulted, she was punched in the stomach. No arrests have been made. If anyone has any information please call 101."
The £128 nightly fee will not likely cover the cost of the pulled up floor, TV torn from the wall, broken furniture and scratched up walls. 
"It was only recently renovated and we'd just got it how we wanted it," McQuillan told the Mirror. "It will probably cost us £3,000 [$4,400] to repair."
For its part, home-sharing website Airbnb has offered to pay for repairs.
"We have zero tolerance for this kind of behavior and have removed this guest from our platform," an Airbnb spokesman said, according to the Standard. "We are also in contact with the host and are providing them with our full support."