11 Amazing Animal Instagram Accounts to Follow in 2016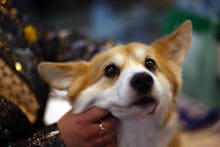 Carl Court/Getty Images
In the spirit of starting 2016 off on a high note, here's a curated list of some of the best animal Instagram accounts to follow and habitually scroll in the event you need a furry face to brighten your day.
In no particular order, here are the new stars of your mobile device.
1. For the urban dwellers/cat lover: @bodegacatsofinstagram 
2. These animals have all the chill: @chillwildlife
3. Baby animals: @thebabyanimals
4. Wild animals: @natgeowild
5. Gorgeous dog photography: @thedogist
6. A tribe of rescue animals: @wolfgang2242
7. If you'd like your dog judged on his or her appearance and/or abilities: @weratedogs
"Here we have a Gingivitis Pumpernickel named Zeus. Unmatched tennis ball capacity. 10/10 would highly recommend."
"Here we have Pancho and Peaches. Pancho is a Condoleezza Gryffindor, and Peaches is just an asshole. 10/10 & 7/10."
8. For Cori enthusiasts: @lacorgi 
9. One more of just dogs, because dogs: @mensweardog
10. An inspiring cat born without her legs who proves she's "Different, not less." @lilbunnysueroux 
11. And one tiny, domesticated squirrel: @this_girl_is_a_squirrel