Chinese Businessmen and Villagers Just Financed This 12-Story Statue of Chairman Mao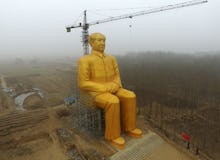 In 2013, the BBC reported that across China, there remained 2,000 statues of Mao Zedong, the chairman of China's Communist party. Now there's one more — and it's huge. 
Local businessmen and villagers chipped in a total of almost 3 million yuan, or $460,000, to build a 120-foot tall Mao in Henan Province, the site of the Great Chinese Famine of the 1950s, according to the BBC. The gold-painted statue constructed from steel and cement sits amid miles of farmland with a spare head sitting beside it. Because sometimes even the greatest Communist, revolutionary leaders need one of those. 
Of course, the newly erected statue only rivals a remarkably similar gold and jade statue in Shenzhen in height. Though only 32 inches high, that one is worth $16 million, according to Business Insider.
But no matter the size, memorials and monuments honoring Mao continue to incite controversy. During his rule, the chairman's "Great Leap Forward" initiative resulted in millions of deaths due to famine. Still, the price tag of this new homage has citizens raising an eyebrow.
According to the Guardian, one commenter on China's Twitter equivalent, Weibo, wondered, "How about using the money for poverty alleviation first?"