Cheap Flights for 2016: Here Are the Best Winter Travel Deals and Destinations to Nab Now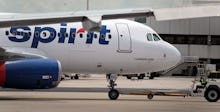 Joe Raedle/Getty Images
Spirit, Frontier and JetBlue Airlines kicked off the New Year Tuesday with flight promotions that will likely be gone before the week's end.
JetBlue launched its "Big Winter Sale" this week with nonstop flights across the United States and the Caribbean Islands for prices as low as $34. Spirit announced their "Week of Savings," which the company said gives travelers 99% off flight-only bookings, but only on certain dates. Spirit's deals end just before midnight Tuesday, meaning interested parties should act fast. 
Frontier may have the cheapest deals of all, with flights that start at $19 for club members and $29 for non-members one way. 
JetBlue has offered flights from Newark, New Jersey, to Orlando, Florida, for $99; from Houston to Boston for $69 and New York to Daytona Beach, Florida, for $89. Spirit Airlines offered non-members deals in the range of $34 to $43 on specific days.
The "Weekend of Savings" promotion with Spirit will only be available until 11:59 p.m. EST Tuesday. Travelers can only use the discount for flights on Tuesdays and Wednesdays between Jan. 12 and Feb. 19.
For JetBlue, flights must be booked by 11:59 p.m. EST Wednesday to take advantage of the low prices. Travelers will be able to travel between Jan. 13 and April 13, with the exception of Feb. 12 to Feb. 15. Sorry, President's Day's weekend will not be open to the discount.  Most of Frontier's discounted flights must be purchased by Thursday.