Is There Going to Be a 'Real Housewives of New Jersey' Season 7? Here's the Latest Update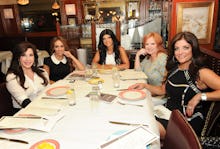 Evan Agostini/AP
Fans of the New Jersey wing of the Real Housewives reality-TV empire are anxiously awaiting the arrival of season seven of RHONJ — but after weeks of waiting for news, there's still no word on when the show's next season might start. That hasn't stopped rumors surrounding potential new cast members from circulating, however.
RHONJ star Teresa Giudice was released from prison back in December. In 2014, Giudice pled guilty to bankruptcy fraud and conspiracy to commit mail and wire fraud. Her husband, Joe Giudice, also pled guilty to fraud. He will begin serving his 41-month prison sentence in March, ABC News reported.
Read more:
Giudice's absence during her time in prison was reportedly one of the reasons for the delay in production of season seven, but since her release there have been no major updates from the RHONJ team.
Former RHONJ cast member Amber Marchese announced back in November that she wouldn't be returning to the show for a potential season seven. No new faces have been confirmed and no premiere date has been announced, but rumors suggest that filming may have already begun and that fans of RHONJ can expect to see some new housewives once the next season finally arrives.