James Murphy Explains LCD Soundsystem's Reunion for Fans Who Feel Betrayed, Promises Album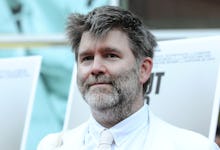 On Tuesday, Coachella Valley Music and Arts Festival finally confirmed the rumors that had been floating around since October 2015: LCD Soundsystem will be reuniting in 2016. The indie dance project will headline the festival's first night and will launch into a tour some time this year. 
But not everyone is excited about the return. In a strange twist of fate, some of the sharpest critics of their return have been some of the band's biggest fans, according to the band's frontman James Murphy, who posted an open letter to those fans on the band's website.
"There are people who don't hate us at all, in fact who feel very attached to the band, and have put a lot of themselves into their care of us, who feel betrayed by us coming back and playing," Murphy wrote. "Who had traveled for or tried to go to the [Madison Square Garden] show, and who found it to be an important moment for them, which now to them feels cheapened. I just hadn't considered that."
To make it up to those fans, he's offering the best thing a musician in his situation could: a new record.
The cynicism is understandable. LCD Soundsystem made a huge deal out of their retirement. They hosted a series of farewell shows at Madison Square Garden filled with guests and covers, and filmed it for a documentary meant to eulogize the band. "It was living a life that nobody would live forever," Murphy explained to the Hollywood Reporter in 2012. "We're not the Rolling Stones. We didn't start when we were teenagers. We started when we were older. People had kids."
To have them suddenly return at Coachella alongside Guns N' Roses, who haven't made a celebrated record in years, does feel cheap in some ways.
However, LCD Soundsystem is determined not to make this year feel like a "victory lap," as Murphy described it. New songs have been coming to him and the creative juices are actually flowing. "We're not just having some reunion tour," he wrote. "We're releasing a record (sometime this year — still working on it, actually), so this isn't a victory lap or anything, which wouldn't be of much interest to us. This is just the bus full of substitute teachers back from their coffee break with new music and the same weird gear. Thank fuck we were never skinny and young. Or at least I wasn't. That always happens with bands... They aren't fat when they come back, typically, just, I don't know, thicker."
A new album and new music are the best way to prove this is actually a creative resurgence and not just a cash-in, which Murphy thankfully understands. "The only thing we can do now is get back into the studio and finish this record, and make it as fucking good as we can possibly make it," he wrote.
Read the full letter here.